Discovery announced a new global collaboration with McDonald's under its brand extension Discovery #MINDBLOWN on an all-new Happy Meal program.
The collaboration will debut Discovery #MINDBLOWN STEM robot toys. Additionally, the collaboration includes an integration into McDonald's McPlay and Happy Studio apps.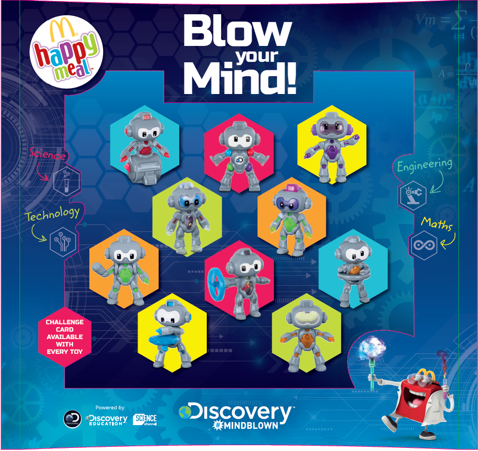 Discovery debuted the new #MINDBLOWN brand at retail last year, as a means to engage kids at "the intersection of exploration, curiosity and STEM-based edutainment". Merchsource serves as the master toy partner, drawing inspiration from Discovery's STEM programming on Discovery Channel and the Science Channel. Discovery also launched its first #MINDBLOWN app last month.
The global collaboration with McDonald's officially launched in February in select markets and will continue to roll out through 2020 in more than 80 markets. The promotion includes a lineup of 10 Discovery #MINDBLOWN STEM-centric toy robots, with each toy accompanied by a challenge gaming card, one included in every Happy Meal order at participating McDonald's restaurants. Each Discovery #MINDBLOWN robot features a unique function that aims to teach kids about a specific STEM principle in a fun, hands-on way. The Discovery #MINDBLOWN cards will feature extended play challenges, lessons, and information related to the STEM principle of each toy, such as light, sound, coding, and space. The collaboration will extend to games and activities on the Happy Studio and McPlay apps that interact with the Discovery Robot characters.