If 2018 was all about the mystic of the unicorn, 2019 is bringing the llama drama. Perhaps spurred on in part by Fortnite's highly coveted and recognizable Llama Loot, llama-themed toys and games are taking over the toy aisles. From infant toys to party games, llama-themed play is having a moment. Here are a few toys that bring the llama drama.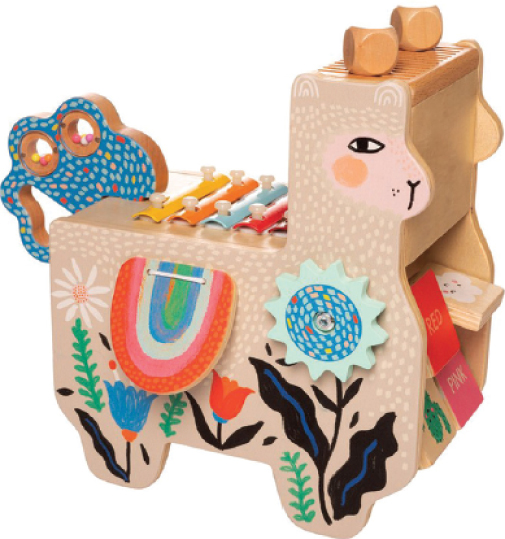 Manhattan Toy
The Musical Lili Llama from Manhattan Toy is a music toy for ages 1 and up, available now. It features a five-bar xylophone, one maraca tail, two clacking saddle blankets, plus mallets that store atop the head.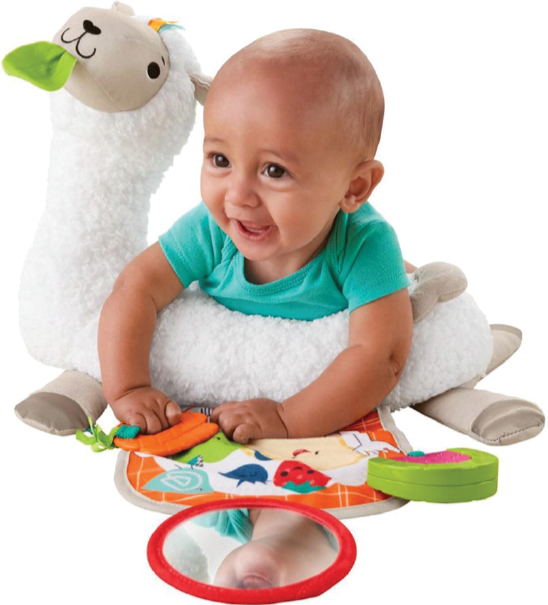 Fisher-Price
The Fisher-Price Llama Grow-with-Me Tummy Time Play Pillow offers little ones support and play as they grow. The tummy time pillow takes baby can be used with baby from birth, and features a double-sided blanket, a pocket to hide the included toys, and mirror. The llama's body acts as a plush wedge that supports babies as they grow from lying on their back to pushing up in tummy time, sitting up to play, and playing on the go.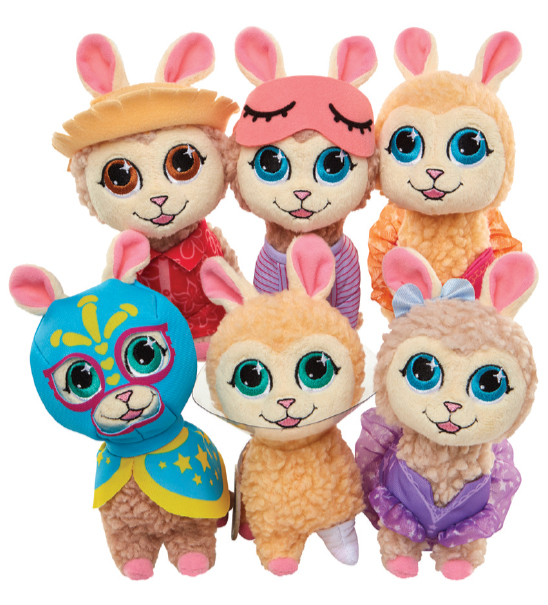 Jakks Pacific
Who's Your Llama from Jakks Pacific expands its lineup of silly collectible llamas for fall with new characters and varieties. The articulated series three collection of Who's Your Llama figures each stand at four-inches tall. There are 12 new llamas to collect such as Dr. Llama, Wedding Llama, Llama-corn, Hula Llama, and Frenchy Llama. Jakks will also introduce series two of its mini collectibles—each stored in a reusable, Peruvian-inspired home—and series two six-inch plush (pictured).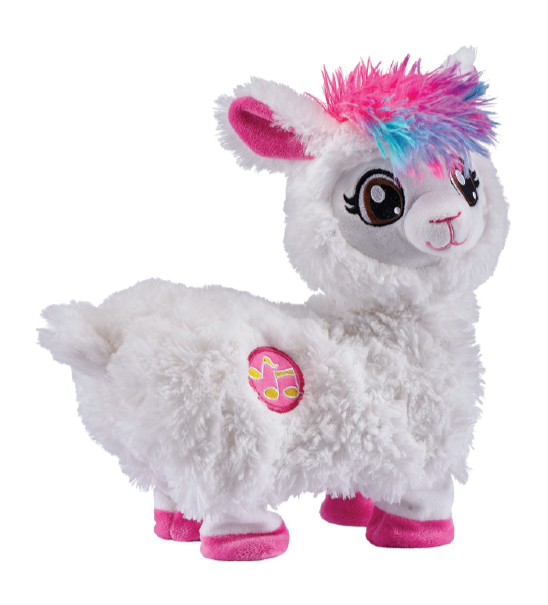 Zuru
Boppi The Booty Shaking Llama (pictured), part of Zuru's Pets Alive line, boasts twerking and head-spinning moves as it dances to three songs.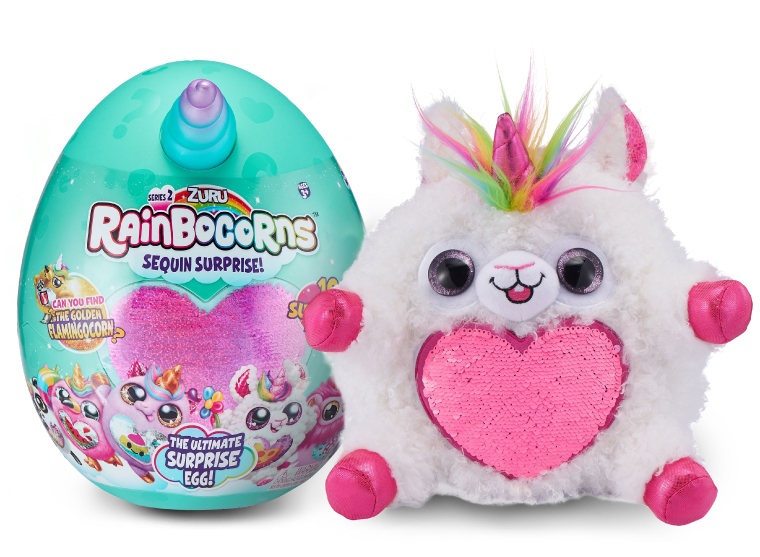 In addition, Zuru expands it Rainbocorns collection with the addition of the Rainbocorn Sparkle Heart Surprise Llama. Pop the included gem in your Rainbocorn or onto your bling ring, and swap your rainbocorn's hearts and wings to create a unique surprise. Other surprises include boo-boocorns, rainbocorn poop, and more. Both are for ages 3 and up, it launches later this year.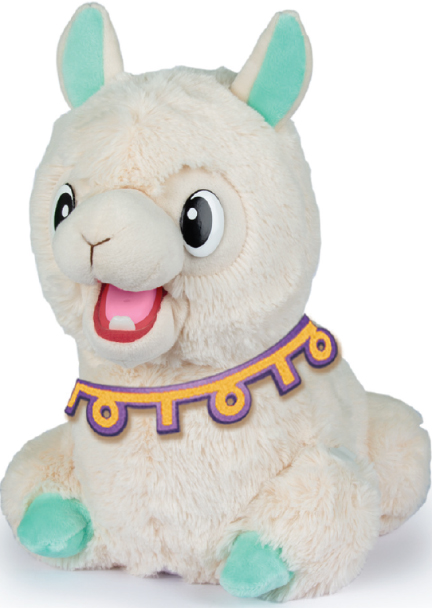 IMC Toys
Spitzy the Llama, part of IMC Toys' Club Petz line, is a new interactive pet llama. Spitzy is always hungry and makes a lot of noise as he chews. He also burps a lot and hates when people grab his ears. Watch out, if Spitzy gets too annoyed by eargrabs, he'll spit water. Spitzy is available this August, for ages 18 months and up.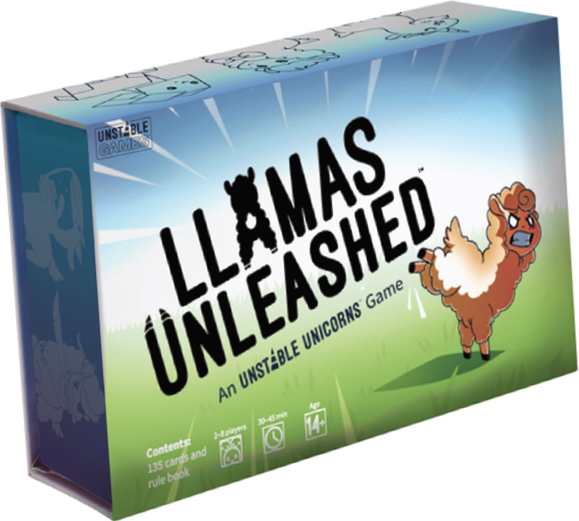 Tee Turtle
Tee Turtle offers up a new llama-themed card game, Llamas Unleashed. It includes 135 brand new cards starring llamas—along with alpacas, goats, and rams—that use the same game mechanics as Unstable Unicorns. The first player with seven animals in his/her field wins. Collect three or more of any type of animal to get a special herd bonus to help defeat enemies. It's for ages 14 and up.
Ann 

Williams

The Craft-tastic Llama String Art Kit from Ann Williams is packed with plenty of string and enough fluffy stuff to make two llama canvases, such as this one pictured right.