Saban Brands Forms Digital Group, Makes New Hires

Saban Brands LLC announced the formation of an in-house digital department. This new unit housed within Saban Brands will spearhead new digital products in support of the company's brands, while also leading the group's digital efforts in new business development, including video games, mobile applications, websites, social media, ecommerce, and more.
The newly created Saban Brands digital department is led by Frederic Soule, Dan Silberberg, Chris Thomas, and Marin Lands. As vice-president of digital content distribution, Frederic Soulie is responsible for the overall licensing strategy of Saban Brands properties in the home video, online video, video games, and software categories. With more than 10 years of experience, Soulie previously oversaw digital distribution and business development for Endemol USA and DIC Entertainment/Cookie Jar.
Dan Silberberger, vice-president of digital, will oversee operations, business development, product development, and marketing of Saban Brands' digital department. Most recently, Silberberger was with venture-backed start-up Kiip. Prior to that he worked with Electronic Arts and Nextel Communications (Sprint).
Reporting to Silberberger is the new digital marketing manager for Saban Brands, Marni Landes. Landes' responsibilities will include implementing strategic online campaigns and driving traffic to Saban Brands' websites. In addition, Landes will develop strategies to increase mobile app downloads and monetize them. Previously she spearheaded the social media initiatives for top entertainment events publisher Goldstar.
These new additions join Chris Thomes, who came to Saban Brands in March as executive director of digital production. Thomes previously served at Disney's interactive media group, where he developed digital content for the Disney Channel and its many brands.
The digital leadership team will report to Elie Dekel, president and CEO of Saban Brands.
Woo Hired as CMO for Sears
Reuters is reporting that Sears Holdings Corp. has named former FreshDirect executive Monica Woo as vice-president and CMO, filling a post that has been vacant since January 2010, according to an internal memo obtained by Reuters.
Woo will reportedly be responsible for the overall marketing, brand, and advertising programs for Sears, Reuters says the memo showed. Her appointment takes effect August 15. She will report to David Friedman, senior vice-president and president of Sears' marketing business. Woo will replace Don Hamblen, who left Sears in January 2010 to join Family Dollar Stores.
She most recently served as chief marketing and strategy officer of FreshDirect. She has held senior positions in e-commerce retail, financial services, and consumer packaged goods.
Ahearn Named at Sesame Workshop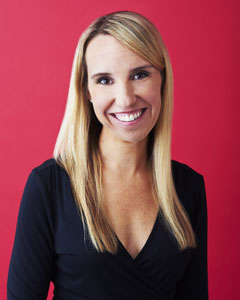 Sesame Workshop has named Jennifer Ahearn vice-president of licensing, strategic partner relations. Ahearn will report to Maura Regan, senior vice-president and general manager of global consumer products. In this role, Ahearn will be responsible for managing all aspects of Sesame Workshop's relationship with master toy licensee, Hasbro. She will also work closely with the education and research team to ensure that the educational goals of the Workshop are factored into the development process.
Prior to joining Sesame Workshop, Ahearn most recently served as senior marketing manager for IBM. In this capacity, Ahearn lead IBM's brand advertising for television, print, and online campaigns. Prior to joining IBM, Ahearn was at BBDO.