Goldsmith Joins Henson Co.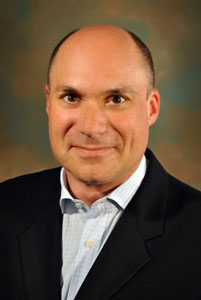 The Jim Henson Company has appointed Richard Goldsmith to the newly created position of executive vice-president, global distribution. He will report to Peter Schube, president and COO. In his new role, he will oversee worldwide distribution of all company properties in the domestic and international markets across all media, including television, home entertainment as well as current and emerging digital platforms.
At this year's upcoming MIPCOM, Goldsmith and his team will focus the company's efforts on licensing television, digital, and DVD rights of the company's new 26 half-hour episode preschool series Pajanimals, a co-production with 24-hour preschool television channel Sprout and Northern Ireland's Sixteen South. All new episodes of the series, which will debut in the U.S. in October exclusively on Sprout, will be previewed for the first time at MIPCOM.
At MIPCOM, under Goldsmith's direction, the team will continue to exploit program distribution rights for the Dinosaur Train and Sid the Science Kid as well as the company's library of legacy titles.
Goldsmith joins The Jim Henson Company from Warner Bros. Entertainment where he most recently served as executive advisor for strategic distribution initiatives for both the digital distribution and consumer products divisions.
Jada Expands U.S. Management Team
Jada Toys has expanded its U.S management team with the hiring of four executives. Joining Jada are Tom Delaney as CMO; Cassidy Park as vice-president, new business development; Steve Moran as director of product development, boys; and Jean Kuerten as director of product development, girls.
Previously Delaney worked at KidZania, Mattel, Jakks Pacific/Play Along Toys, and The Walt Disney Company. Delaney will spearhead all external marketing, including advertising, public relations, promotions, and social media. He will also oversee sales, product development, and licensing.
Park has spent 20 years designing and developing toys, fashion brands, and lifestyle products for companies including Mattel, where she was most recently vice-president of Barbie design and development. As vice-president of new business development, she will help to develop new markets and establish strategic partnerships on behalf of the company and its brands.
Steve Moran and Jean Kuertan each join as directors of product development. Moran will work on broadening an already strong line of toys targeted at boys, while Kuertan will ready the company to launch a new line of girls' products, a category Jada will be entering for the first time later this year.
Moran's experience includes holding senior management positions at Mattel. Kuerten's background includes a decade at Mattel as well as running Back in the Swing of Things, a business she founded that designed and developed custom motivational and inspiration gifts for schools, hospitals, and medical establishments.
Coolabi Hires Dyson
Entertainment producer and rights management company Coolabi has appointed Natasha Dyson as head of licensing. In her new role she will oversee the licensing activity for Coolabi's growing portfolio of properties including Poppy Cat, Purple Ronnie, and Scarlett & Crimson, plus Bagpuss, Clangers, and Ivor the Engine, which Coolabi represents on behalf of Smallfilms and Peter Firmin.
She most recently worked at Chapman Entertainment where she was head of licensing; managing the company's portfolio of preschool brands in the UK, including Fifi and the Flowertots and Roary the Racing Car. She also managed the launch of new brands Little Charley Bear and Raa Raa the Noisy Lion.
Prior to this she was at 19 Entertainment. She started her licensing career at The Beanstalk Group where she managed and launched the Mary-Kate and Ashley brand in the UK before expanding the company's retail business as part of the new business team.