Although it may be imaginary, most kids know at an early age how to get to Sesame Street. Show creator Joan Ganz Cooney set the groundwork for this in 1966 after conducting a study on television and child development. Displeased with her findings, which showed children in underserved communities were underprepared for school, she set out to create a more focused educational children's program. Three years later, Sesame Street premiered.
By 1971, Sesame Street reached seven million children in the U.S. daily and the brand signed its first licensing deals with Random House and Western Publishing/Golden Books, which produced its first widely available licensed consumer products. Today, it remains the most widely viewed children's program in the world, impacting new generations through its partnerships and initiatives, such as literacy and healthy habits.
Its almost 20 international co-productions have also opened the Sesame Street brand up to overseas markets. This year, Spain's PortAventura theme park added a Sesame Adventure area. A partnership with the UK's FIA Foundation, which promotes road safety, named Grover as the U.N. Road Safety Ambassador for the U.N.'s Decade of Action for Road Safety global campaign.
In 2009, Sesame Workshop signed a 10-year global strategic alliance with Hasbro to be Sesame Street's master toy licensee. The contract took effect this year.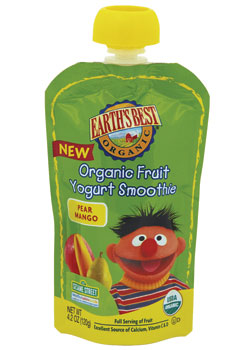 Hain Celestial:
Hain Celestial's Earth's Best Organic Sesame Street Fruit Yogurt Smoothies for toddlers are made from organic fruit and yogurt. Earth's Best is a Sesame Street partner in its Healthy Habits initiative.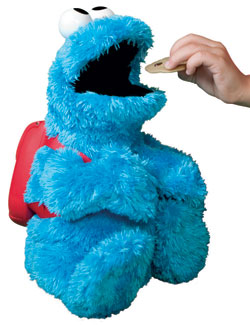 Hasbro:
Hasbro's Playskool brand released the plush Count 'N Crunch Cookie Monster. Cookie Monster counts along as the "cookies" from his backpack are fed to him. You can also tickle on his feet to make him squirm and giggle.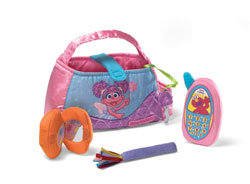 Gund:
Gund's Sesame Street-branded Abby Cadabby purse comes equipped with plush fairy essentials and accessories: a magic wand, a pretend cell phone with ring tones to "call" other Sesame Street characters, a key, and a pumpkin-shaped plastic compact mirror.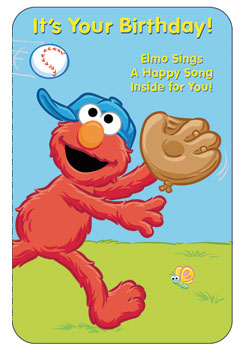 American Greetings:
American Greetings' Sesame Street-licensed products include greeting cards, stationery, gift wrap, and party supplies featuring Elmo, Big Bird, Abby Cadabby, and other Sesame Street characters.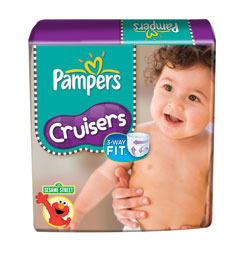 Procter & Gamble:
Procter & Gamble offers Sesame Street-licensed Pampers taped, disposable diapers, including Splashers swim pants. It also has a Sesame Street-branded line of Crest toothpaste and toothbrushes.