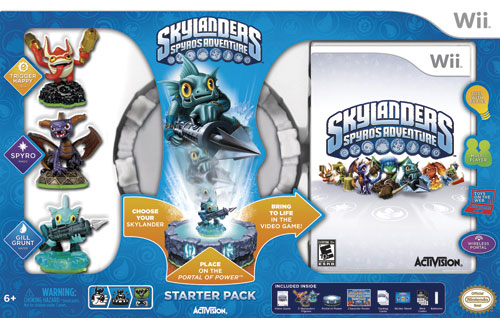 Due out this fall, Skylander Spyro's Adventure is a first-of-its-kind game that merges the world of video gaming with the physical play pattern of action figures­— a combination that has the potential to change the face of gaming as we know it.
When Activision acquired the license to the Spyro franchise three years ago, it immediately enlisted the creative minds of video game developer Toys for Bob. Yale Miller, an Activision game producer, describes Toys for Bob CEO and head creative director Paul Reiche as a "driving force and heart and soul" of the project. "Having the imagination play with the physical toy is something [Reiche] really likes," Miller says. "That's what we've done­— bring those things together and build that connection with the physical toy." Skylander Spyro's Adventure allows kids to bring their toys to life by offering more than 30 distinct Skylander action figures that when placed on the video game's "portal of power" teleport the figures into the interactive world of Skylands. To make the interactive Skylander experience as authentic as possible, Activision also recruited Toy Story writers Joel Cohen and Alec Sokolow for the game's storyline, composer Hans Zimmer for music, and Skywalker Sounds for sound design.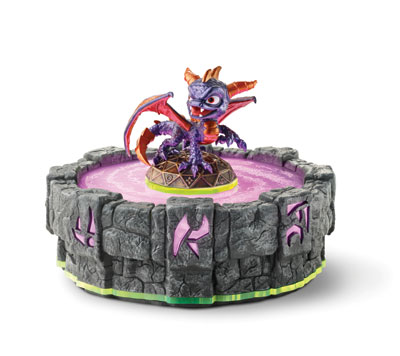 With a sweet spot demographic of ages 6–10, the game is also tailormade for kids to easily understand, says Miller. As opposed to navigating on-screen menus to select a character, kids can simply pick up the figure they want to play with and place it on the portal. "I think the other thing with boys and girls is that we're always telling them what to do, how to do it, when to do it, and with this game, they can change the characters instantly," says Paul Murphy, Activision public relations manager. The physicality of the toys also builds an emotional connection to the product that isn't always found in video games. Kids can then take the toys on their own imagined adventures outside the game.
Everything that happens in the game—experiences, upgrades for your character, collected treasures gets remembered by the toy through what Murphy would only describe as top-secret magic. This results in cross-platform playability, allowing the toys to be used on different consoles, handhelds, mobile devices, and the Spyro web world, and letting kids who don't have access to the software purchase only the toy to play with on a friend's console.
The world of Skylands offers children the chance to play the same game multiple times and each time, whether it's through a different play mode or a different character with its own distinct powers, take away a unique experience.