"The merchandise line we've developed for the Pokémon Trading Card Game, Pokémon Center, as well as the amazing selection of licensed toys and more celebrates this remarkable milestone for the brand and is sure to delight Pokémon fans of all ages," said Colin Palmer, vice-president of marketing for The Pokémon Company International.
This May, Pokémon hits the big screen for the brand's first live-action film. While past series and subsequent animated films have long focused on the journey of Pokémon trainor Ash Ketchum, the new film centers on Detective Pikachu, based on the spin-off adventure video game that tasked players to solve mysteries alongside Pikachu.
The upcoming Pokémon Detective Pikachu film from Warner Bros. Pictures, Legendary Entertainment, and The Pokémon Company hits theaters on May 10. Ryan Reynolds will voice Pikachu while Justice Smith and Kathryn Newton will take on the roles of the leading human characters Tim Goodman and Lucy Stevens, respectively. In the film, Goodman is a former Pokémon Trainer and the son of prominent detective Harry Goodman, who goes missing in a car crash. Goodman arrives in Ryme City to investigate, where he teams up with Harry's former partner Detective Pikachu—whom only Goodman can understand beyond the typical "Pika Pika." As the duo chases clues throughout Ryme City, they uncover a plot that could threaten all of the Pokémon universe.
The Pokémon Company International unveiled an extensive line of products inspired by the upcoming film last month—many of which will be on display at Toy Fair. All items in the line are inspired by the movie.
Featured Product: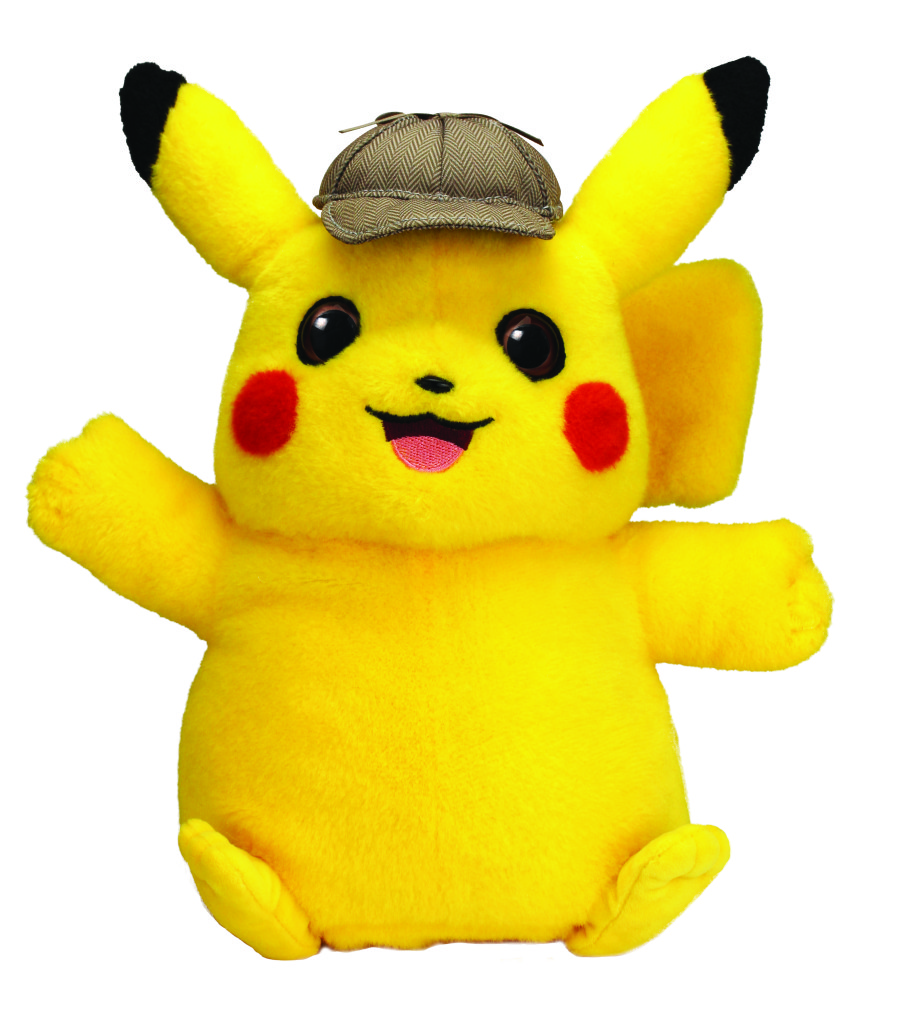 As the master toy licensee, Wicked Cool Toys will offer a series of action figures, plush, and roleplay toys that will be available at mass retailers beginning in April. Highlights include the Pokémon Detective Pikachu Movie Feature Plush (featuring the voice of Ryan Reynolds) and the Pokémon Detective Pikachu Movie figure line.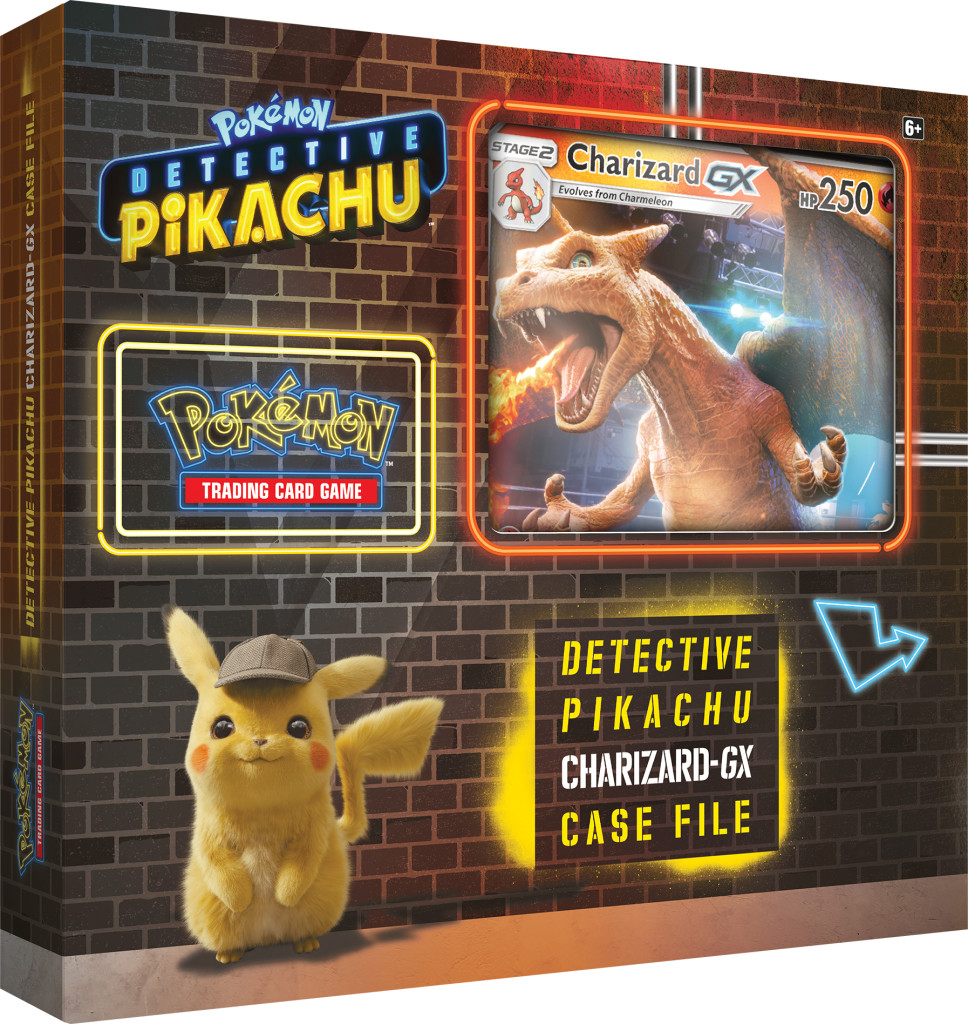 The Pokémon Trading Card Game: The Pokémon TCG debuts new Pokémon Detective Pikachu booster packs for the launch of the film. These boosters feature newly designed packaging based on the look and feel of Ryme City. Twenty-six new cards feature Pokémon such as Detective Pikachu and Charizard depicted in their CGI movie likenesses. The first wave of products will be available beginning April 5 in North America. This include the Pokémon TCG: Detective Pikachu Case File, which comes with one promo card featuring Detective Pikachu, one metallic coin inspired by Detective Pikachu, two Detective Pikachu booster packs, and one additional Pokémon TCG booster pack.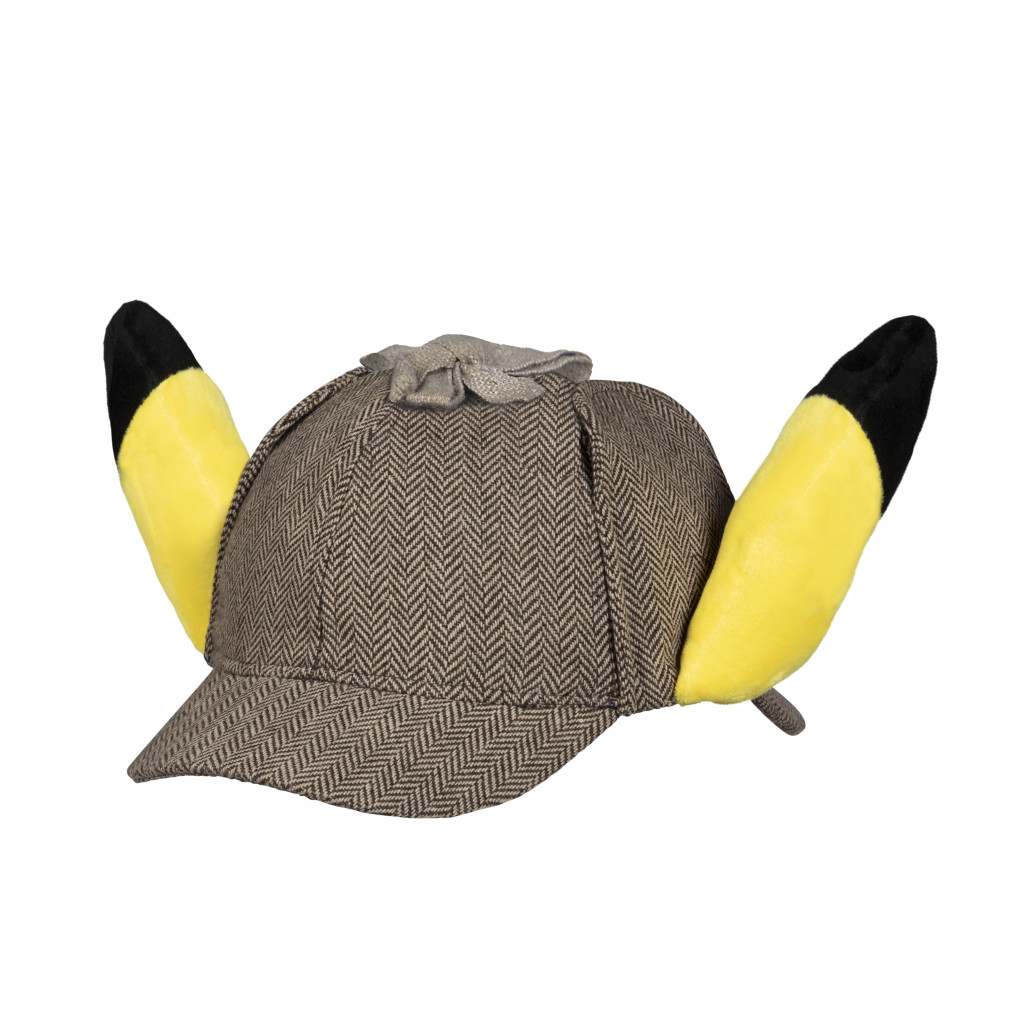 Fans can gear up with a wide selection of exclusive new apparel featuring iconography from the movie, as well as unique roleplay and lifestyle items, from Pokemon Center.com. Products launch on April 2, with a second wave of merchandise arriving in May: Detective Pikachu Deerstalker Hat featuring premium quality tweed with plush Pikachu ears; Hi-Hat Café apparel and accessories nodding to the iconic locations in Pokémon Detective Pikachu; Ryme City Police Department apparel and accessories; Ryme City 10-Year Anniversary Parade apparel; and more.
The Pokémon Mega Construx line will feature characters and settings seen in the upcoming movie. The first wave of Pokémon Mega Construx items inspired by the film will begin to hit retail shelves on March 25. Highlights include the Mega Construx Detective Pikachu and Mega Construx Detective Pikachu Mr. Mime buildable figure.
The TTPM team also got a more in-depth look at the product line from Wicked Cool Toys at Toy Fair New York: