Toys "R" Us To Close 180 U.S. Stores
According to recent court filings, Toys "R" Us plans to close up to 182 of its U.S. retail locations as part of its efforts to emerge from bankruptcy.
This announcement comes four months after TRU and certain of its U.S. subsidiaries and its Canadian subsidiary voluntarily filed for relief under Chapter 11 of the Bankruptcy Code in the U.S. Bankruptcy Court for the Eastern District of Virginia in Richmond, Va. on September 18, 2017.
"The actions we are taking are necessary to give us the best chance to emerge from out bankruptcy proceedings as a more viable and competitive company that will provide the level of service and experience you should expect from a market leader," said David Brandon, chairman and CEO, in a letter shared with its customers.
Subject to the Court's approval, sales and store closings will commence in early February with the majority closing no later than April 15. Babies "R" Us stores will make up roughly half of store closures. In addition, a number of its locations will be converted into co-branded Toys "R" Us and Babies "R" Us stores. All 83 TRU Canada locations will remain open but will be taking additional steps to improve the overall customer omnichannel experience, said Melanie Teed-Murch, president of Toys "R" Us and Babies "R" Us Canada in an open letter to customers.
Whether or not all 182 stores will shutter their doors will ultimately depend on whether the TRU and non-Debtor affiliate Propco I are able to negotiate more favorable lease terms and rent reductions for certain stores with their landlords, according to court filings. Additionally, in order to maximize the value of its estates, TRU may need to close additional stores, which must again be filed with the Bankruptcy Court, following the conclusion of lease negotiations. A&G and Keen will assist with these ongoing lease negotiations.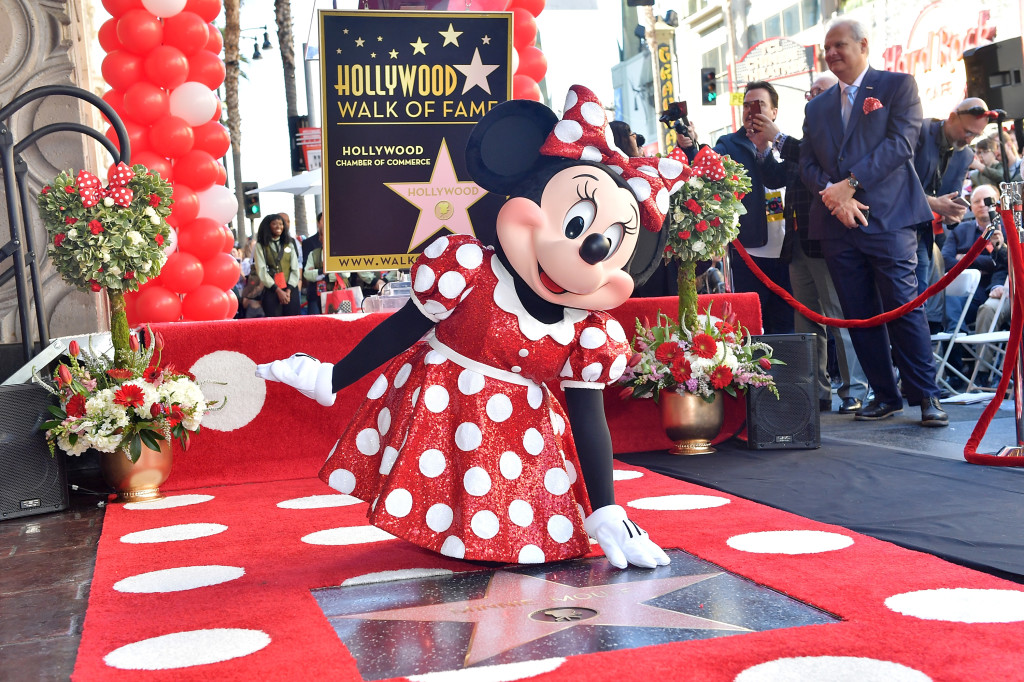 Minnie Earns Star on Hollywood Walk of Fame
The Hollywood Chamber of Commerce honored Disney's Minnie Mouse with an official star on the Hollywood Walk of Fame. Special guest speakers included Disney Chairman and CEO Robert A. Iger, and pop icon and judge of ABC's American Idol, Katy Perry. The star was dedicated in the category of Motion Pictures next to the El Capitan Theatre.
"Minnie Mouse has been a star and a fashion icon since she first burst onto the scene in the groundbreaking animated classic, Steamboat Willie," said Robert A. Iger, Chairman and Chief Executive Officer, The Walt Disney Company. "The star of more than 70 movies during her illustrious career, Minnie has entertained millions of people around the world, touching hearts and bringing joy wherever she goes. We're thrilled to see her cultural influence and many achievements recognized with her very own star on the Hollywood Walk of Fame."
A veteran of more than 70 films, Minnie Mouse is one of Hollywood's most recognized global stars. Minnie's iconic style has also made her a muse for fashion designers, artists, and fans around the globe. Her classic polka dot look has been constantly reimagined by the fashion industry from her early pill-box flower hat, which influenced ladies' hat trends, to her famous bow and ears.
To celebrate Minnie's milestone anniversary and National Polka Dot Day, a number of fashion collaborations launched worldwide, including a new special-edition Coach collection. The 20-piece collection includes handbags, small leather goods, ready-to-wear and specialty items—all infusing signature Coach silhouettes reimagined with vintage-inspired Disney patches and Minnie Mouse's favorite polka dots. Coach Creative Director Stuart Vevers also designed a bespoke dress for Minnie, worn at a celebratory lunch immediately following the ceremony at Hollywood's famed Chateau Marmont. Additional collections from Disney Store and ShopDisney.com, New Balance, Torrid, Forever 21, New Era, Pandora, Macy's, and more are now available.
Bestselling Children's Book Wonder Expands Product Line
Random House Children's Books announces new Wonder-branded products are now available, based on the No. 1 New York Times bestselling book and movie (starring Julia Roberts, Owen Wilson and Jacob Tremblay).
Celebrating the book's #ChooseKind messaging and featuring Palacio's iconic Wonder illustrations, products include a 365-day journal set sprinkled with quotes from the book, a daily affirmation calendar, and Wonder stationery available at Barnes & Noble, Target, Amazon, and more; inspirational T-shirts at Hot Topic; social expression accessories at Out of Print Clothing; jewelry at 10pm online; and classroom supplies available at Raymond Geddes, Amazon, and more.
The "Daily Wonder" app is also available on iOS, based on the second book of the Wonder series 365 Days of Wonder. The app's messages are drawn from popular songs, inscriptions from Egyptian tombstones, fortune cookies, and words of wisdom from such noteworthy people as Anne Frank, Martin Luther King Jr., Mother Teresa, Mahatma Ghandi, and everyday kids. Fans can submit their own words of wisdom for potential inclusion as well.
Random House has also dubbed 2018 as the "Year of Wonder" and launched a nationwide classroom campaign against bullying, which allows teachers to certify their classroom as "kind" using the Wonder Anti-Bullying-themed resource guides.
TOMY to Rollout Incredibles Lamaze Toy Line
TOMY International will introduce a line of Lamaze developmental infant toys featuring characters from Disney/Pixar's Incredibles franchise. This marks the first time the  characters will be available in infant toys since its 2004 theatrical debut. With Incredibles 2 slated for release this summer, the Lamaze line will include a full line of toys created in conjunction with child development experts, including teethers, Clip & Go's, a playmat, and shape sorter. Product from TOMY's Lamaze Incredibles line will hit stores this spring.
Nintendo Labo Readies for Launch
Building on the 129-year history of Nintendo comes Nintendo Labo, a new line of interactive build-and-play experiences that utilize the Nintendo Switch system.
Together with the Nintendo Switch system (sold separately), the Nintendo Labo kits provide the tools and technology to make DIY creations and play games with those creations. With each Nintendo Labo kit, kids can transform modular sheets of cardboard—specially designed to interact with the Nintendo Switch console and Joy-Con controllers—into creations called Toy-Con. From a piano to a motorbike, a robot and more, each Toy-Con comes to life when combined with Nintendo Switch in different ways. As kids build, they'll discover how the technology works and can invent new ways to play with each Toy-Con.
For example, build a functioning 13-key piano that brings musical creations to life once the Nintendo Switch console and Right Joy-Con controller are inserted. The IR Motion Camera in the Right Joy-Con detects which keys are pressed and translates them into unique notes that are heard through the console. Take control of your own motorbike by constructing a functioning set of handlebars, with a Joy-Con inserted in each side and the Nintendo Switch console cradled in the middle. Hit the ignition button, turn the right handle to engage the accelerator and watch an adventure unfold on the Nintendo Switch screen.
Nintendo Labo launches on April 20 with two kits: the Variety Kit and the Robot Kit. With the Variety Kit, create different Toy-Con including two Toy-Con RC Cars, a Toy-Con Fishing Rod, a Toy-Con House, a Toy-Con Motorbike and a Toy-Con Piano. With the Robot Kit, build an interactive robot suit with a visor, backpack, and straps for your hands and feet, which you can then wear to assume control of a giant in-game robot. Both kits include everything needed to assemble Toy-Con creations, including the building materials and relevant Nintendo Switch software. A special Customization Set that includes stencils, stickers, and colored tape will also be available to purchase on April 20. For more information about Nintendo Labo, click here.