Nominations for Women in Toy Awards Closing Soon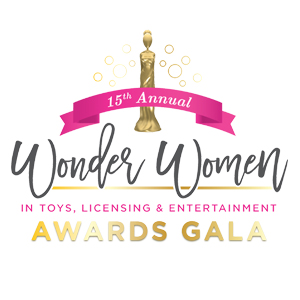 Nominations for the Women in Toy Awards close October 31. The annual WIT Wonder Women Awards honors outstanding women for their achievements and accomplishments, and their commitment to enriching their workplaces and our industry. Women who have made an impact in toys, licensing or entertainment can be nominated for each of the following categories:
Creator/Inventor
Licensing
Manufacturing
Marketing/PR
Sales
Social Responsibility
Rising Star
For more information on the nomination and selection process, click here.
eBay Unveils New Online Toy Destination, Predicts Holiday Toy Trends
eBay revealed its list of top toys and trends for the holiday season. From Fortnite Monopoly to FurReal Munchin' Rex and everything in between, eBay's 2018 predictions are based on the platform's trending toy data and selected by eBay's team of toy experts.
eBay is also introducing Toytopia, a new destination on its site featuring millions of toys – from the new and impossible-to-find, to classics for kids of all ages.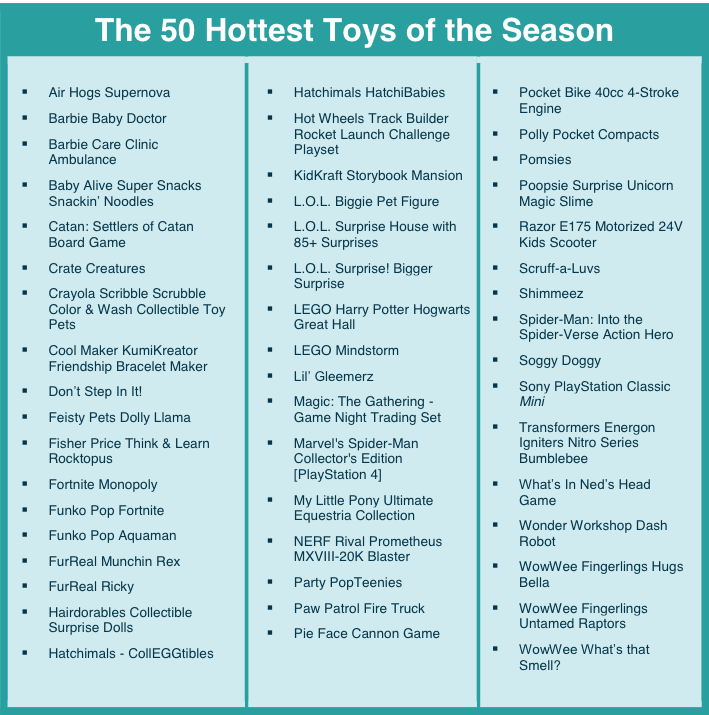 "We've studied our recent data and industry trends to determine the top toys for this holiday season to help shoppers find the perfect gift for every child's wish list," says Michael Mosser, eBay's general manager of lifestyle, media and toys. "The top 50 most in-demand toys span trends and categories from surprise dolls, action figures, building toys and furry friends, with some standout newcomers stealing the show as instant hits for the season."
Here's eBay's top eight toy trends:
1. Surprise Matters: Collectible toys that surprise will be hits this season. More than 148,000 L.O.L. Surprise! toys were sold on eBay in the past six months, and Hatchimals are also trending for the retailer as one of the top-15 most popular toys in sales. Hatchimals CollEGGtibles leads in popularity and HatchiBabies buzz is building.

2. Furry Friends: eBay's favorite nurturing pet toys include Crate Creatures, FurReal Ricky, WowWee Fingerlings Hugs Bella, Pomsies, WowWee Fingerlings UNTAMED Raptors, and Crayola Scribble Scrubbies Color & Wash Collectible Toy Pets.

3. Disgustingly Awesome: Pimples, poops, farts and slime— this year's toys are silly, gross and sometimes smelly. eBay's picks in this category include Hasbro's Don't Step In It! and WowWee's What's that Smell? Slime and squishy sequins are also topping lists, including Poopsie Surprise Unicorn and Shimmeez.

4. Comeback Kids: First launched in the 1980s, Polly Pocket and My Little Pony got a reboot this year. Additionally, Nerf upped its ante with the Nerf Prometheus Blaster, featuring increased precision and firepower, while LEGO continues to top kids' wish lists with LEGO Mindstorm eBay predicting to be a holiday favorite.

5. Tech It Out: Tech gifts predicted to shake things up according to eBay include the Air Hog Supernova, FurReal Munchin Rex, and Baby Alive Super Snacks Snackin' dolls. Additionally, the PlayStation Mini, is set for release in early December.

6. Action Packed: Following the release earlier this fall, Marvel's Spider-Man video game and limited-edition PS4 Pro bundle generated an 89 percent increase in PS4 sales. For those that prefer magic over Marvel, Harry Potter still tops wish lists with the LEGO Harry Potter Hogwarts Great Hall. Other picks include eTransformers Energon Igniters Nitro Series Bumblebee to Aquaman and Fortnite Funko Pop! figures.

7. Never Board: Fornite Monopoly gives a modern twist to an iconic classic, and new games such as Pie Face Cannon Game and Soggy Doggy top wish lists. For the serious gamers, Magic: The Gathering—Game Night Trading Set and Catan: Settlers of Catan Board Game are eBay's picks.

8. Unplugged Fun: Toys that encourage imagination, creativity or to simply to get outdoors round out the list of trends. Gift ideas include the KidKraft Storybook Mansion, the Cool Maker KumiKreator, the Wonder Workshop Dash Robot, the Fisher-Price Think & Learn Rocktopus, Razor E175 Motorized 24V Kids Scooter, tPocket Bike 40cc 4-Stroke Engine, and the Black 6V Bentley Kids Ride-On Car.
NPD Survey Predicts More Blended Retail Shopping for Holiday
With more than three-quarters (77 percent) of consumers planning to do at least some of their holiday shopping online, blended retail shopping is taking center stage, according to this year's Holiday Purchase Intentions Survey from The NPD Group.
"The traditional division between online and in-store retailing continues to shift and blur," says Marshal Cohen, chief industry advisor, The NPD Group. "Traditional store retailers are upping their online games these days, while they are also finding ways to drive traffic to stores with improved efficiency, more entertaining shopping experiences, and better value. Online retailers are also finding ways to blur the retail divide in their own ways, offering lower prices and shipping options that get products to consumers faster than ever."
While Amazon and other primarily online retailers top the list of anticipated shopping destinations, brick-and-mortar retailers are holding their own this year. More than two-thirds (70 percent) of consumers plan to shop at online-only retailers over the holidays, followed by 42 percent who will shop offline at mass-merchants and discount stores, 24 percent at national chains, and 23 percent at department stores. Six out of 10 consumers plan to shop both online and in brick-and-mortar stores this holiday season, an increase of 3 percentage points since 2017.
Online shopping intent is up 4 percentage points from last year and 6 percentage points compared to 2016. Online shoppers anticipate spending an average of $748 this holiday season, roughly 50 percent more than the $492 their brick-and-mortar-only counterparts are planning to spend.
One of the consumer worries hindering online shopping is the fear packages could be lost or stolen after delivery. However, the majority of online shoppers still plan to have packages delivered and left outside of their homes, despite the fact that one in six (17 percent) have had a package stolen in the past.
Online retailers, and in particular Amazon, also factor heavily into holiday shopping research for many consumers. Among those planning product research of any sort over the holidays, more than half anticipate using Amazon, followed by consumer reviews and search engines with 37 percent each. "Where shoppers make their buying decisions is a critical step in the holiday shopping process," Cohen said. "Product research increasingly happens online first at major shopping sites and on social media, these days. TV, magazines and catalogs are far less important than they once were."