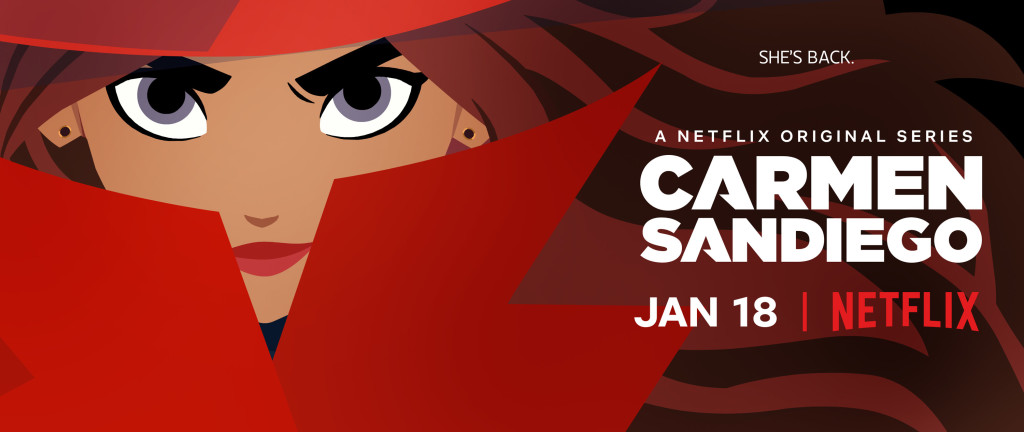 HMH Readies for Return of Carmen Sandiego
Houghton Mifflin Harcourt (HMH) introduces Carmen Sandiego to a new generation, beginning with the launch of the new animated series debuting January 18 on Netflix and produced by HMH.
To celebrate Carmen's return, HMH partnered with Miami-Dade County Public Schools this week to bring nearly 2,000 students together for a live event with superstar Gina Rodriguez, the new voice of Carmen. Thousands of students nationwide joined the fun virtually via live stream.
At the event, fifth and sixth graders from Miami competed in a Carmen-themed game show while connecting with Gina and learning more about geography and global exploration. Each student in attendance received the new Who in the World is Carmen Sandiego? hardcover book, and HMH is donating an additional 6,000 copies to classrooms across Miami-Dade County.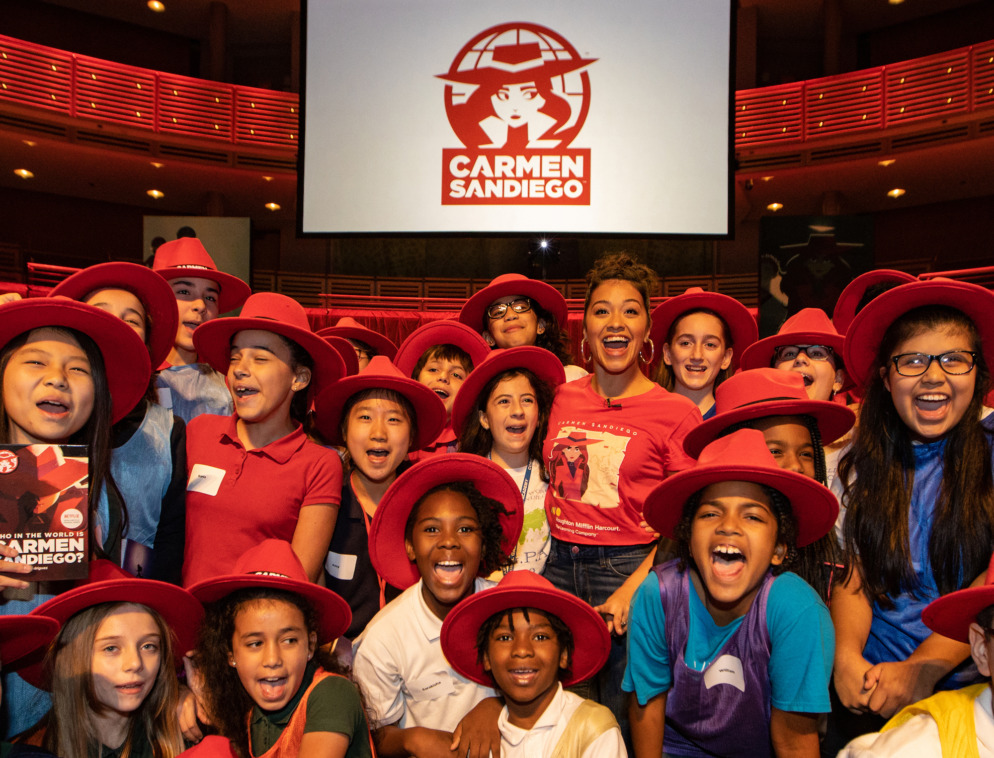 The new Netflix animated series stars Gina Rodriguez (Jane the Virgin) as Carmen and Finn Wolfhard (Stranger Things) as her tech-whiz sidekick, Player. The new series brings viewers inside Carmen's world, revealing her identity as a modern day Robin Hood traveling the globe and stealing from V.I.L.E. and giving back to its victims. The sereis is based on the original 1990s entertainment property that inspired millions of kids to learn geography, history, and culture. Caroline Fraser, head of HMH Productions, is the executive producer of the series, and Duane Capizzi, known for Transformers Prime and The Batman, is the showrunner.
Netflix also has announced a Carmen Sandiego live-action feature film, written by Mark Perez (Game Night), and produced by Kevin Misher, Rodriguez, and Fraser. Release is slated for 2020.
The series will also be supported by HMH's Carmen Sandiego 2019 publishing program, which kicks off with Who in the World Is Carmen Sandiego? on January 22 (available in Spanish and English). This summer, HMH will publish The Sticky Rice Caper, a graphic novel, and Clue by Clue, an original middle grade story. Four additional Carmen books in a range of formats will follow later in 2019.
This week's announcement also signifies Carmen's return to schools, including a host of high-quality resources and opportunities to leverage Carmen's global capers as teaching tools connected to her focus on geography, history and culture. These include lesson plans mapped to Carmen episodes, Google Earth and Google Expeditions games, original digital content, and Carmen-themed instructional videos designed for classroom settings, a school-focused Carmen Sandiego webpage with free resources, downloadable activities and more.
Disney Gears Up for Minnie's 90th, National Polka Dot Day with Special Events, Product
As part of Disney's continued celebration of Mickey Mouse and Minnie Mouse's 90th anniversary, and in honor of Minnie fan holiday National Polka Dot Day (January 22), Disney is encouraging fans to #MinnieStyle with events in Los Angeles and New York and new collections launching online and at retail.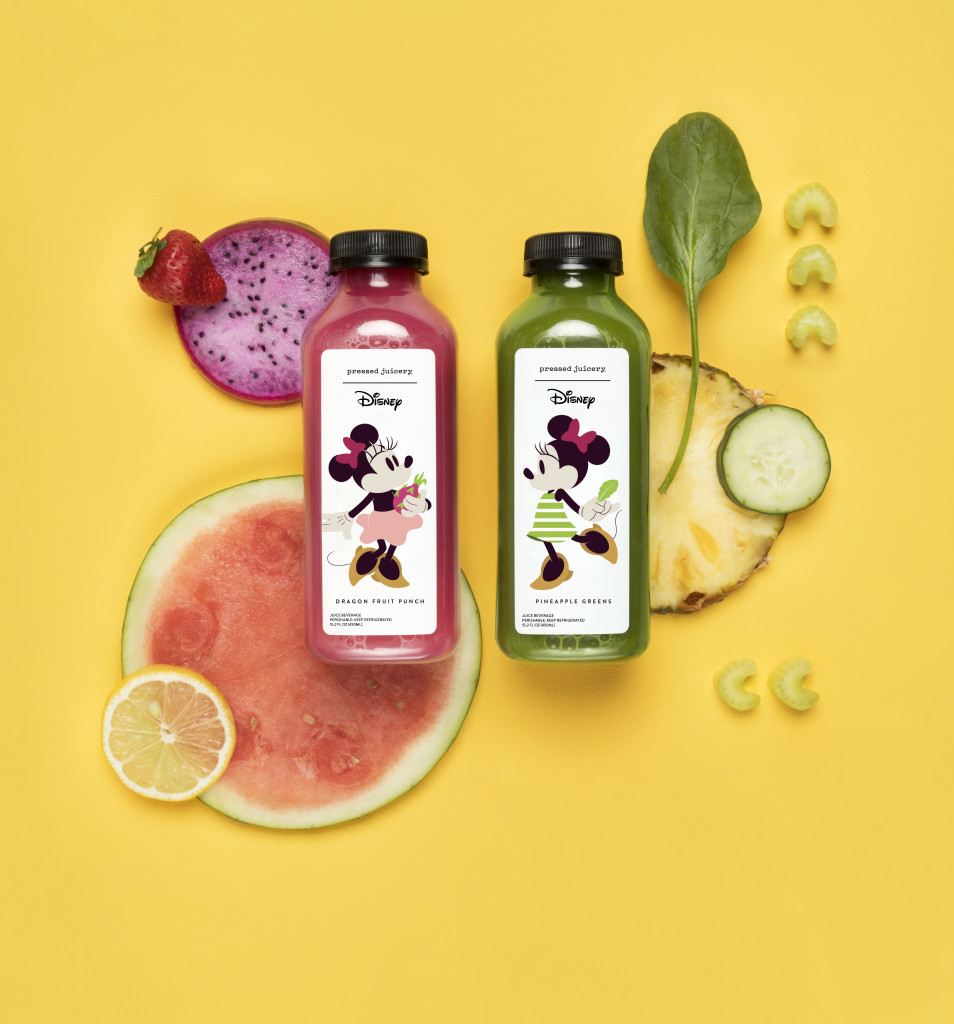 On January 19, female-founded athleisurewear brand Terez and leading cold-pressed juice brand Pressed Juicery will host a Minnie-inspired fitness event open to the public at Westfield Century City, in celebration of the launch of their Minnie-inspired collections. Throughout the day, fans will have the opportunity to take a class hosted by an influential fitness pioneer Tracy Anderson, shop Terez's new leggings and tops adorned with the beloved character. Attendees will also be some of the first to have the chance to sample Pressed Juicery's new limited edition, Minnie-inspired juices, a Pineapple Greens and Dragon Fruit Punch, created in celebration of her anniversary. Both juices are non-GMO and have no added sugars.
The juices will be available at all 70-plus Pressed Juicery locations nationwide and online at pressedjuicery.com starting on January 22. Special Pressed Juicery and Minnie Mouse merchandise will also be available for fans to continue the celebration all year long. Custom seed pouches, showcasing Minnie gardening, inspired by vintage Minnie Mouse seed packets from the 1970s, and a special edition cooler bag will be available for purchase at launch. In February, a reusable glass water bottle and a commemorative pin will also be available.
The Disney|Terez featuring Minnie Mouse collection will be available on Terez.com starting on January 18. The collection features an assortment of women's and girl's leggings and tops blending Terez's commitment to quality and unique design with Minnie's fun and feminine aesthetic.
Pixar Launches SparkShorts Film Program
Pixar Animation Studios unveils its new SparkShorts film program this week with an exclusive run of its first three shorts—Purl, Smash and Grab, and Kitbull— at Hollywood's El Capitan Theatre for an exclusive one-week run, followed by Pixar's first-ever YouTube exclusive launch in the weeks that follow. SparkShorts is an experimental storytelling initiative that welcomes new creative voices at the studio to share their stories.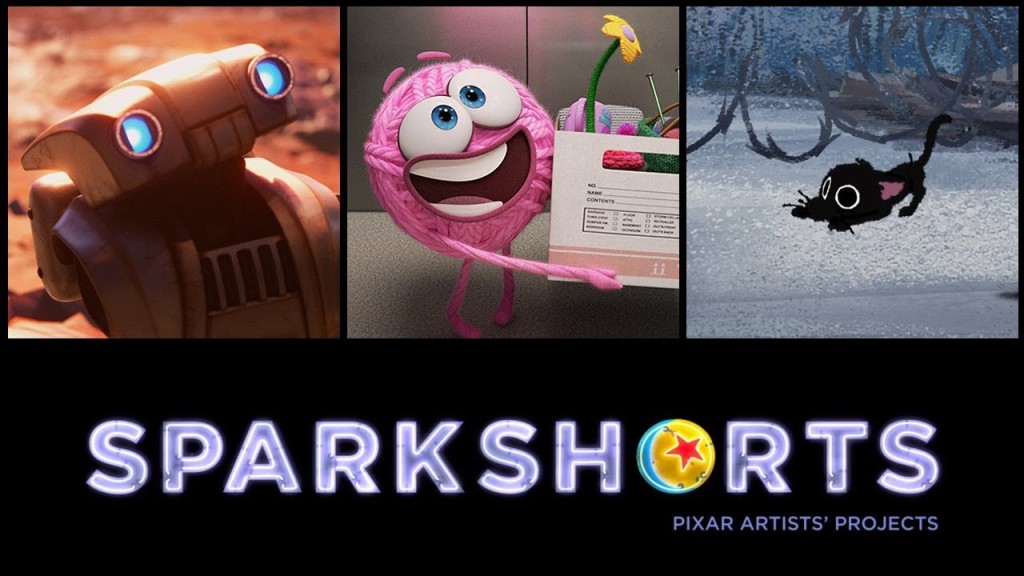 "The SparkShorts program is designed to discover new storytellers, explore new storytelling techniques, and experiment with new production workflows," says Jim Morris, president of Pixar Animation Studios. "These films are unlike anything we've ever done at Pixar, providing an opportunity to unlock the potential of individual artists and their inventive filmmaking approaches on a smaller scale than our normal fare."
The first three shorts will be showcased at the historic El Capitan Theater Jan. 18–24, following The Little Mermaid feature film presentation (1 p.m., 4 p.m. and 7 p.m. showtimes). Guests will need to purchase a ticket to enter the theater.
Purl, directed by Kristen Lester and produced by Gillian Libbert-Duncan, features an earnest ball of yarn named Purl who gets a job at a fast-paced, high energy, male centric start-up. Things start to unravel as she tries to fit in with this close knit group. Purl must ask herself how far is she willing to go to get the acceptance she yearns for and in the end is it worth it?
Smash and Grab, directed by Brian Larsen and produced by David Lally, is about two antiquated robots who risk everything for freedom and for each other after years of toiling away inside the engine room of a towering locomotive.
Kitbull, directed by Rosana Sullivan and produced by Kathryn Hendrickson, reveals an unlikely connection that sparks between two creatures: a fiercely independent stray kitten and a pit bull. Together, they experience friendship for the first time.
Purl hits the YouTube channel on February 4, followed by the YouTube and YouTube Kids debuts of Smash and Grab on Feb. 11, and Kitbull on Feb. 18. The first three shorts, plus future SparkShorts, will also be available on Disney+, the Walt Disney Company's upcoming direct-to-consumer streaming service, which is set to launch in the U.S. in late 2019.
ASTRA Announces Member Exclusive Discounts for Spielwarenmesse
Members of the American Specialty Toy Retailing Association (ASTRA) who attend the Spielwarenmesse international toy fair in Nuremberg, Germany will have access to special discounts and an exclusive tour. The dates of the event are January 30, 2019 to February 3, 2019.
Spielwarenmesse will be held January 30–February 3. The event celebrates its 70th anniversary this year. It will feature more than 2,900 toy, hobby, and leisure manufacturers from around the world. More than 71,000 toy buyers and exhibitors from more than 125 countries are expected to attend this year's event.
"Spielwarenmesse has always been a place for retailers to find great products that help differentiate independent stores from the competition—and also for ASTRA to find new exhibitors with fresh products to bring to ASTRA's Marketplace & Academy," says Kimberly Mosley, president of ASTRA. "This year we are thrilled that ASTRA has a more formal partnership with our friends at Spielwarenmesse, which lets us offer discounted admission to our members and a special ASTRA-only tour of the city. As always, we will organize the ASTRA contingent so we can share not-to-be-missed products and information."