LEGOLAND Florida Launches The LEGO Movie World
Opening March 27, LEGOLAND Florida Resort the launch of The LEGO Movie World. Created in partnership with Warner Bros. Consumer Products, this expansion features three new rides and numerous attractions, all inspired by the characters and themes of the worldwide blockbuster The LEGO Movie and the new animated adventure sequel The LEGO Movie 2: The Second Part.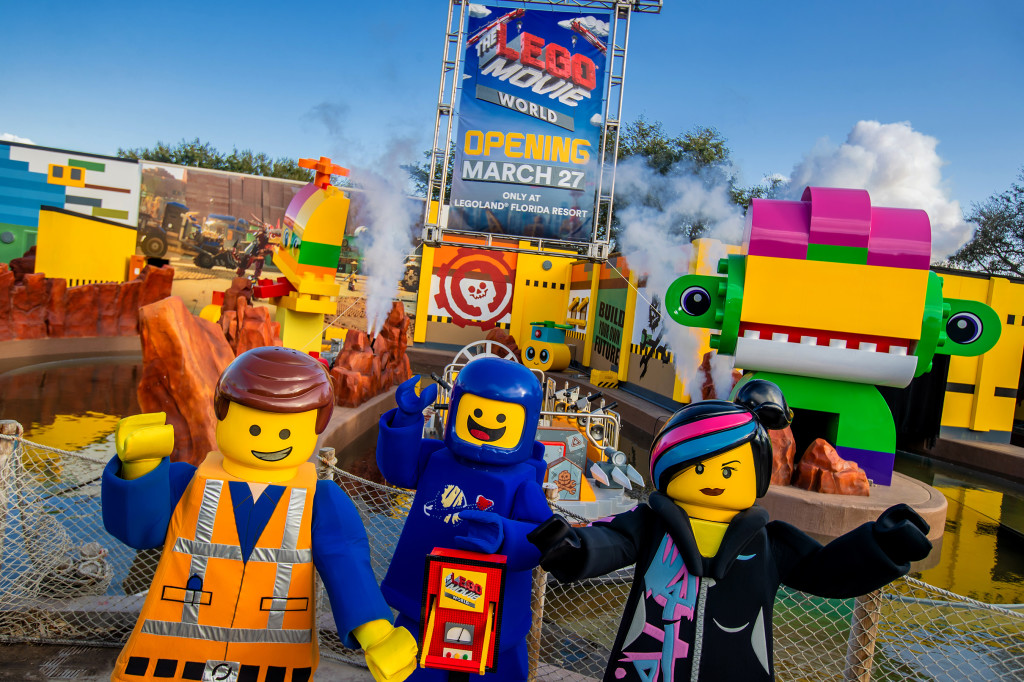 Merlin Magic Making, the global creative and delivery division of parent company Merlin Entertainments Group, re-created Bricksburg and its characters, creative eating spaces, and authentic cityscape where guests can experience Emmet's Super Suite.
The LEGO Movie Masters of Flight ride takes guests on a suspended ride aboard Emmet's Triple Decker Couch surrounded by a full-dome virtual screen, giving the sensational feeling of flying through a world created completely from LEGO bricks. The attraction is the first in the world at a major theme park that embeds a 180-degree turn in the ride experience. The ride animation will feature a humorous and magical adventure as guests soar through Cloud Cuckoo Land, dive to Middle Zealand and splash down on the waters of Pirate's Cove.
Unikitty's Disco Drop takes guests through a rainbow-filled journey based on Unikitty and her many moods. Once on the ride, guests will swoop to the tiptop of Cloud Cuckoo Land, then drop, spin and bounce back down to earth.
At Battle of Bricksburg, the only water ride in The LEGO Movie World, riders are challenged to stop DUPLO aliens from invading and stealing LEGO bricks by spraying water at targets from their boats. Outside of the ride will be water cannons for guests to spray and help the riders save the day.
The LEGO Movie World will also feature Taco Tuesday Everyday eatery; The Awesome Shop filled with take-home collectibles; and a space-themed playground structure inspired by Benny's spaceship, which will include special photo opportunities and character interactions.
Steps away at LEGOLAND Hotel in the new The LEGO Movie-themed rooms, designed with familiar scenery and characters from the movies. Adults can relax in their own room inspired by Emmet's apartment, while kids dream of spaceship adventures in a separate children's room themed after Benny's Spaceship.
NPD Group: U.S. Toy Sales Down 2 Percent for 2018
The NPD Group announced U.S. retail sales of toys generated $21.6 billion in 2018 compared to $22.0 billion in 2017, a decline of 2 percent.
The 2 percent decline comes after four straight years of growth in the toy industry.
"After the liquidation announcement of Toys"R"Us last year, there was a great deal of speculation about what would happen to the industry, with some predicting double-digit declines," said Juli Lennett, vice-president and industry advisor, Toys, The NPD Group. "Overall, a two percent decline is a solid performance after such a significant shift in the retail landscape. It's also worth noting that annual 2018 sales are slightly higher than 2016, which experienced mid-single digit growth."
Sales performance across super-categories in 2018 showed mixed results, with four out of 11 posting growth. Gains were seen in Action Figures and Accessories, followed by Dolls, Youth Electronics, and Arts and Crafts.
Annual 2018 U.S. Toy Industry Performance:
Action Figures & Accessories
+10 percent
Dolls
+7 percent
Youth Electronics
+3 percent
Arts & Crafts
+3 percent
Games/Puzzles
-1 percent
Outdoor & Sports Toys
-4 percent
Building Sets
-5 percent
Infant/Toddler/Preschool Toys
-5 percent
All Other Toys
-6 percent
Vehicles
-10 percent
Plush
-10 percent
Dolls had the strongest growth thanks in large part to L.O.L. Surprise!, Barbie, and Hatchimals. Action Figures followed, with sales from Jurassic World, Marvel Universe, and Beyblade driving most of the growth. Cool Maker, Cra-Z-Art, and Kinetic helped the gains in Arts and Crafts, while Fingerlings, Kidi, and L.O.L. Surprise! helped the Youth Electronics supercategory experience growth.
Top properties for the year based on total dollar sales included L.O.L. Surprise!, Barbie, Nerf, Marvel Universe, and Hot Wheels.