eOne to Celebrate Chinese New Year in February with Peppa Pig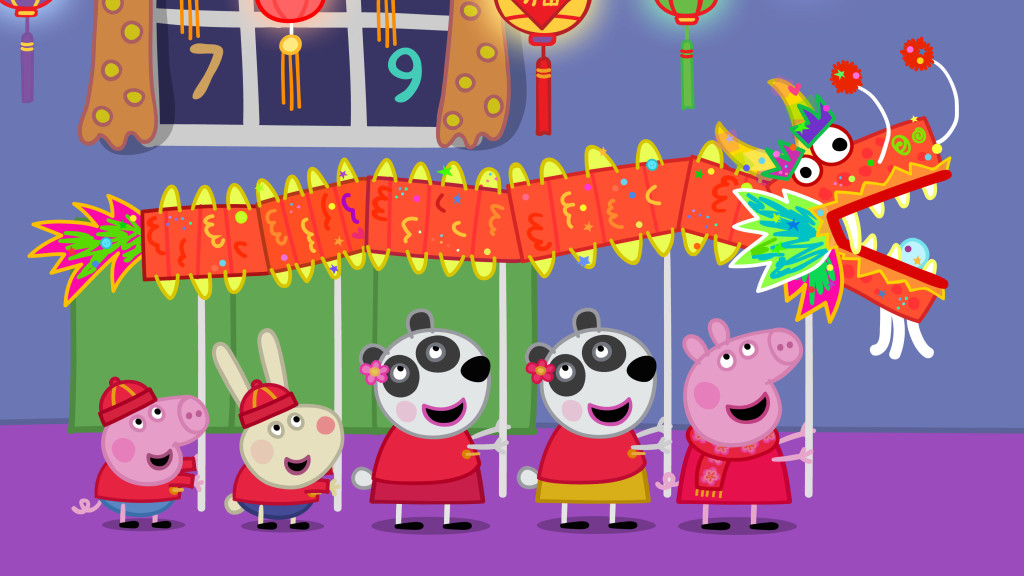 Entertainment One (eOne) unveiled plans to reach a global audience with its Chinese New Year 'Year of the Pig' celebrations with two new episodes of Peppa Pig, which will be broadcast to viewers across multiple markets. The specials center on Peppa and her friends and family celebrating Chinese New Year and will begin airing on Tuesday, February 5 in the UK, in honor of the Year of the Pig. Select markets will air the specials in Mandarin.
Nickelodeon's global network, including the U.S., will be joined by FTA broadcasters in multiple markets to air the themed specials during the Chinese New Year celebrations including: Australia (ABC) and New Zealand (TVNZ), Europe (Channel 5 Milkshake, RAI, France TV, CLAN), Canada (Treehouse), South Africa (ETV), as well as in local language in Asia, Taiwan (YoYo), and Hong Kong (nowTV). FTA VOD platforms will also air according to their planned schedules.
In the first episode, "Chinese New Year", Madame Gazelle teaches the children all about Chinese New Year and they make a dragon costume for an unforgettable fireworks parade. The second episode, "Panda Twins", introduces  new characters Peggi and Pandora Panda, twin daughters of Policeman Panda, who are brought to playgroup for the first time.
The broadcast plans are part of eOne's overarching strategy to celebrate Chinese New Year 'Year of the Pig' with Peppa Pig throughout 2019, including a raft of exciting plans for Chinese consumers. A nationwide cinema release, Peppa Celebrates Chinese New Year, co-produced by Alibaba Pictures, will release in China on 5th February 2019, exclusive Chinese New Year merchandise will be available including the first Panda Twin toys, large scale retail activations with leading e-commerce platform Tmall will be supported by a significant marketing campaign and a cross partnership with Merlin Entertainments' new Peppa Pig World of Play indoor attraction in Shanghai will be full of surprises.
Recently a promotional video for the Chinese cinema release, Peppa Pig Celebrates Chinese New Year, became a viral sensation on social media platforms with more than 1.5 billion views in less than one week. Zhang Dapeng, who directed the film, said both the trailer and the film aimed to promote family values.