GameStop Halts Efforts for Potential Sale
GameStop halted efforts aimed at a potential sale after failing to secure financing on "commercially acceptable" terms, the company reported.
The company had been conducting a strategic review since last June that potentially would lead to the sale of its businesses. GameStop completed the $735 million sale  of its Sprint Mobile business to AT&T reseller Prime Communications earlier this month, with part of the proceeds being "reinvested" in the GameStop's collectibles business.
GameStop had been under pressure from shareholder Tiger Fund Management for much of the past year to review its business with an eye toward a potential sale. Private equity firm Sycamore Partners was among those interested in buying GameStop and taking it private.
GameStop will now focus on hiring a new CEO, a post that has been filled on an interim basis by former CEO Daniel DeMatteo since Michael Mauler resigned in May.
Spielwarenmesse Announces ToyAwards Winners
Spielwarenmesse announced the winners of the 16th annual ToyAwards during the show's official Opening Ceremony. The awards pay tribute to outstanding, innovative products in four age-specific categories and a new Startup group.
Baby & Infant (0-3 years)
Magic Touch Piano Musical Toy, Hape International and Kids II
Preschool (3-6 years)
bworld theme sets, BRUDER Spielwaren
SchoolKids (6-10 years)
Magical Mermaid World, PLAYMOBIL
Teenager & Adults (10 years and older)
kNOW!, Ravensburger Spieleverlag
Startup
Mabot, Shenzhen Bell Creative Science and Education
A jury of 16 experts (including international trade representatives, market researchers, educationalists, scientists, a blogger, and a toy safety expert) selected the five winners from a total of 838 entries (2018: 643). To win, the products had to score exceptionally well in the categories fun factor, originality, safety, potential success at retail, workmanship, and quality as well as accessibility of the product concept.
The winners of the ToyAwards are all on show in a compact display at the TrendGallery in Hall 3A. The selection reflects the huge spectrum of ideas presented at the Spielwarenmesse across all product groups.
Disney Channel Announces its First-Ever IGTV Series
Beginning February 23, Ruby Rose Turner, star of Disney's live-action comedy series Coop & Cami Ask the World, will be joined by her castmates and her real-life family on Instagram in Disney Channel's first-ever IGTV series Ruby's Gems. Designed for kids ages 13 and up, the series blends a vlog with a behind-the-scenes format. Airing every Saturday, it's produced by Thumb Candy Media, the digital studio division of Industrial Media's B-17 Entertainment.
WTHRA Reveals 2019 Hall of Fame Inductees
The Western Toy & Hobby Representatives Association (WTHRA) will induct five honorees into the Hall of Fame this year: Terry Asten Bennett of Cliff's Variety, Jim and Retha Davis of Kid's Center, Jerry Pinsky and Peter Trouw of R-Biz Associates. Five Little Monkeys, with six locations across Northern California, will be recognized as Retailer of the Year by WTHRA for outstanding customer service, community involvement, and years of distinguished service in the toy industry.
Recipients will be recognized on March 10 at the Annual ToyFest West Awards Gala hosted by WTHRA. The gala will be held in the South Point Hotel Grand Ballroom. All show participants are welcome and encouraged to attend.
Word Party Renewed for Fourth Season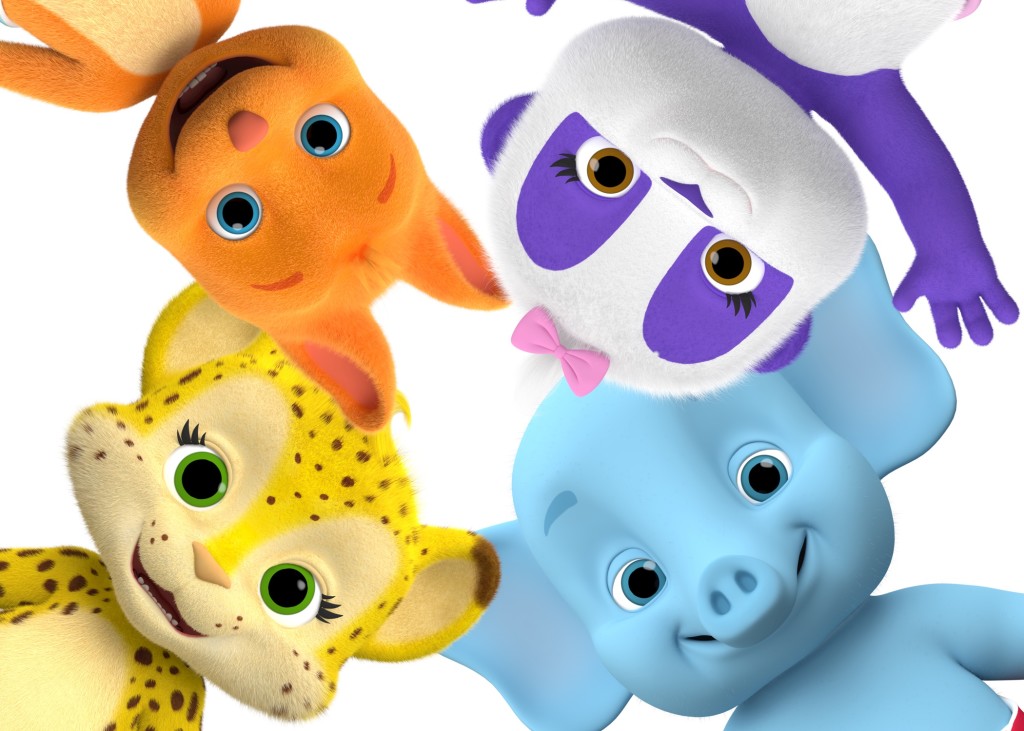 The Jim Henson Company has received the greenlight to produce a fourth season (20 x 11′) of the vocabulary-building early preschool series, Word Party. A Netflix Original, it is available for streaming in the U.S. and in territories around the world.
Created by Alex Rockwell (Pajanimals, Bear in the Big Blue House), Word Party is a preschool show that invites the youngest children to help take care of four adorable baby animals as they sing, dance and play their way through their daily routines, learning new words along the way. This season, the "Babies" welcome Tilly, a new baby tortoise character that will be part of the show's new dual-language format, teaching Mandarin in English-speaking countries, and English in non-English speaking countries. Tilly and the other Babies (Lulu the panda, Bailey the elephant, Kip the wallaby, and Franny the cheetah) will directly ask for help from the "Big Kids" at home, granting the audience authority to guide the action, as well providing a context for vocabulary acquisition. Also new this season are 10 short-form music videos that will reflect the show's curriculum with fun and catchy original songs.
Word Party is produced using the Henson Digital Puppetry Studio, a proprietary CG-animation technology from Jim Henson's Creature Shop that allows puppeteers to perform digitally animated characters in real time. The series is a production of The Jim Henson Company and is executive produced by Lisa Henson, Halle Stanford, and Alex Rockwell.