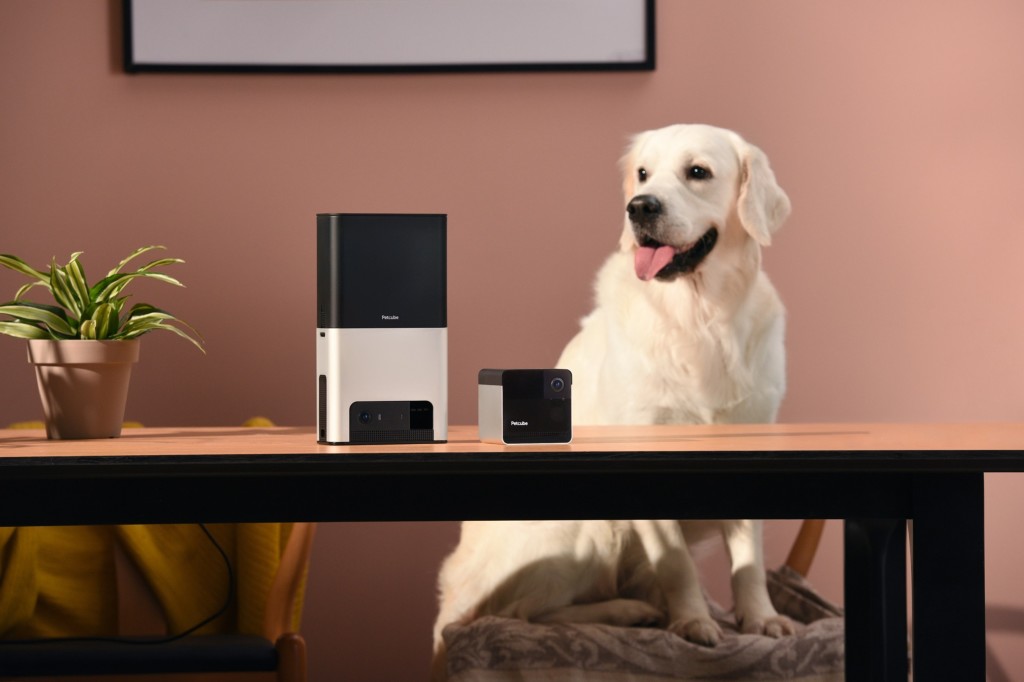 CES 2019: Pet Tech Edition
Petcube Reveals Redesigned Pet Cams
Petcube unveiled two smart pet cameras, Petcube Bites 2 and Petcube Play 2, redesigned to be all-in-one home cameras for modern pet parents. Re-engineered for better remote experience, Petcube Bites 2 and Petcube Play 2 feature extended wide angle lens with up to 180-degree full-room view, two-way audio (now with 4-microphone array) as well as improved connectivity with 5GHz WiFi support. With Alexa built-in, both devices will allow Petcube users to access more than 50,000 Alexa skills, including playing music, controlling smart home devices, setting alarms, listening to the news, and checking the weather hands-free.
Petcube Bites 2 treat camera has been redesigned to be even more compact to accommodate small and large spaces, providing more options for placement. An updated treat flinging mechanism allows users to better control treat portions and supports a greater variety of treat sizes. Petcube Play 2 is the 3rd generation camera modeled off the original Petcube Camera, with an iconic cube design and built-in interactive laser toy, re-engineered to be super precise and smooth.
Both Petcube Play 2 and Petcube Bites 2 work best with Petcube Care subscription service. Care watches after your home and pets when everyone is away. Using powerful AI technology, Care understands what pets are doing, registering important events like cat, dog, or human movements, barks or meows, and helps to discover any abnormal behaviors. Petcube Care subscribers enjoy exclusive deals on pet insurance, food, and other goods and services, from leading brands like Mars Petcare, Wellness, Trupanion, Rover, Audible, Vetted, KONG, and many others, saving on average over $300 per year. Subscriptions start as low as $2.99/month.
Both next-gen cameras feature 1080p HD video, 4x digital zoom, and night vision. Powered with AI technology, Petcube gives pet parents real-time smart alerts about potentially dangerous events, with audio recognition of barking and meowing, and the ability to tell the difference between cats, dogs, and people. In addition to Alexa built-in, both cameras have companion Alexa Skills, so users can go hands-free and ask Alexa to fling treats, play with their pet, and even reorder more supplies.
Petcube Bites 2 and Petcube Play 2 will come in spring 2019 in two colors: Matte Silver and Carbon Black.
Wagz Launch New Smart Pet Care Products
Wagz, Inc., launched at CES the newest additions to its suite of pet care products: The Wagz Go Smart Door and Roam Smart Shields, the Explore Smart Collar, the Serve Smart Feeder, and the Wagz app.
The Explore Smart Collar allows pet owners to set virtual boundaries for pets using gentle, ultrasonic corrections. The Go Smart Door can be applied to standard doors in the home using the Wagz installation equipment and integrates with the Explore Smart Collar so owners can let dogs in and out, all from their phone. The Roam Smart Shields also connect with the Explore Smart Collar to establish virtual no-go zones indoors to ensure our four-legged friends stay away from places and things that are off-limits or unsafe.
The Explore Smart Collar and Go Smart Door both integrate with the Wagz Serve Smart Feeder—the feeder that identifies and automatically delivers the exact amount of nutrition based on breed, environment and activity levels.
Wagz will also begin fulfilling preorders for the Explore Smart Collar and early bird preorders for the Go Smart Door. Customers are also now able to preorder the Roam Smart Shields, in addition to the Explore Smart Collar and Go Smart Door, all of which will ship by the end of January.