As the new global master toy partner of Nickelodeon, Alpha Group will debut a new toy line that builds on the brand's decades of content and fandom and offers something for every generation of fan. The range includes collectible pop culture figures, novelties, plush and in a first, SpongeBob toys that include Nickelodeon Slime.
Expected to hit shelves this spring, the line will feature the following SpongeBob toys:
COLLECTIBLE VINYL FIGURES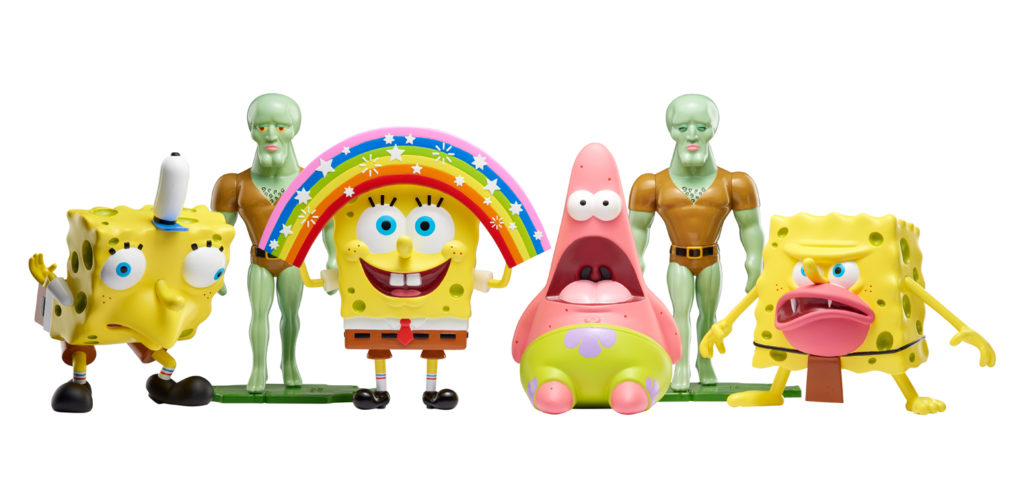 SpongeBob Masterpiece Memes will feature 8-inch collectible vinyl figures that bring to life fan-favorite show and movie moments now featured on some of the most popular viral SpongeBob memes. The spring collection will include Mocking SpongeBob, Imaginaaation SpongeBob, Surprised Patrick, Spongegar, and Handsome Squidward. For Ages 6+, SRP: $19.99
SpongePop CulturePants will include 4.5-inch vinyl collectible figures. The spring line includes B-Movie SpongeBob, Patrick and Dr. Plankton, based on the horror episodes from the show; as well as Old-Timey SpongeBob, Patrick, and Squidward in an all-new style inspired by the original animation. For ages 6+, SRP: $9.99
Spongesicles launch this fall with vinyl figures that look just like the real SpongeBob ice pops you buy at your local ice cream truck, except they won't melt. There will be four unique designs: three with a melted look and one intact. It's a surprise as to which you'll get. For Ages 6+, SRP: $9.99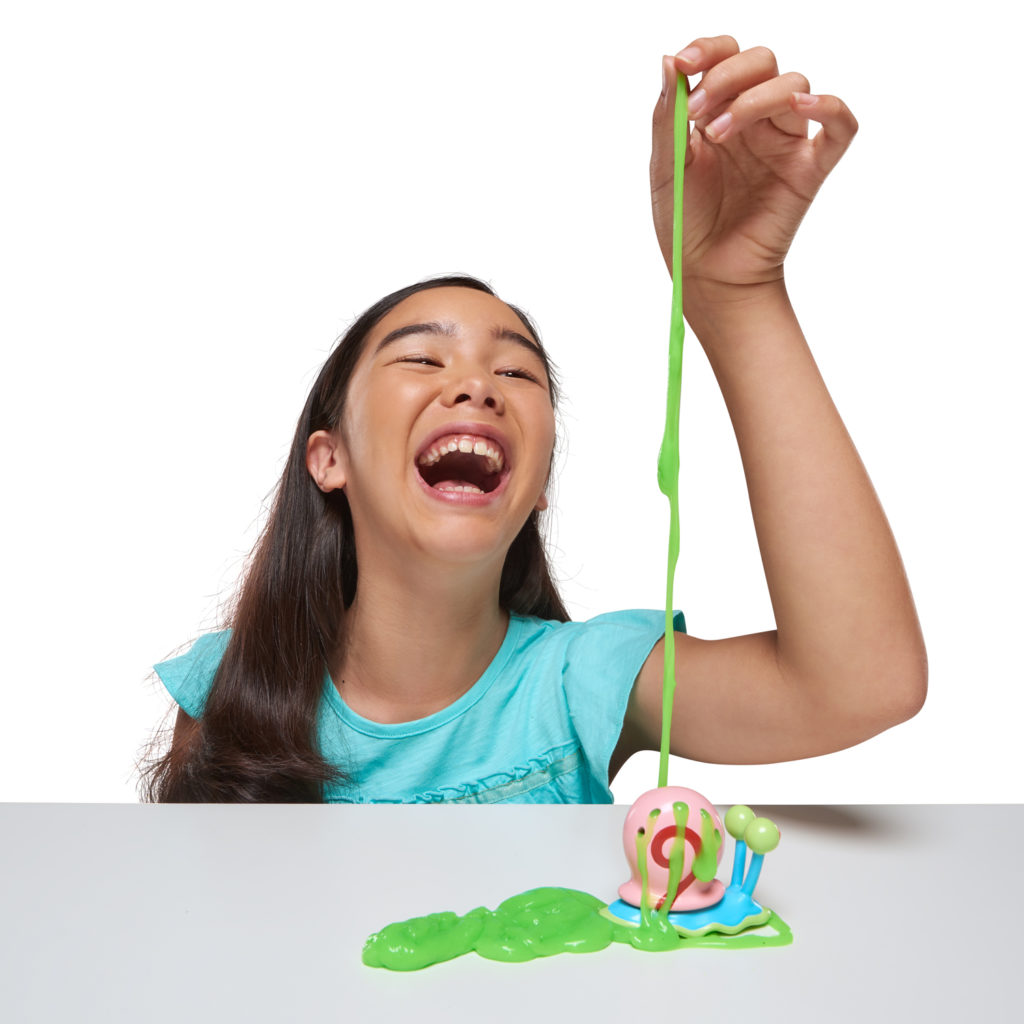 NICKELODEON SLIME
SpongeBob Slimeez Figures with Nickelodeon Slime reimagine the world of Bikini Bottom. Load each 3-inch SpongeBob figure up with Nickelodeon Slime (included), push and watch the ooey gooey slime ooze through the figures. The line launches with six figures for spring, each packaged with two ounces slime and a collectible SpongeBob cube for a blind package experience. There is even a rare Gold SpongeBob Slimeez. Seven additional figures will follow in fall. Ages 6+, SRP: $6.99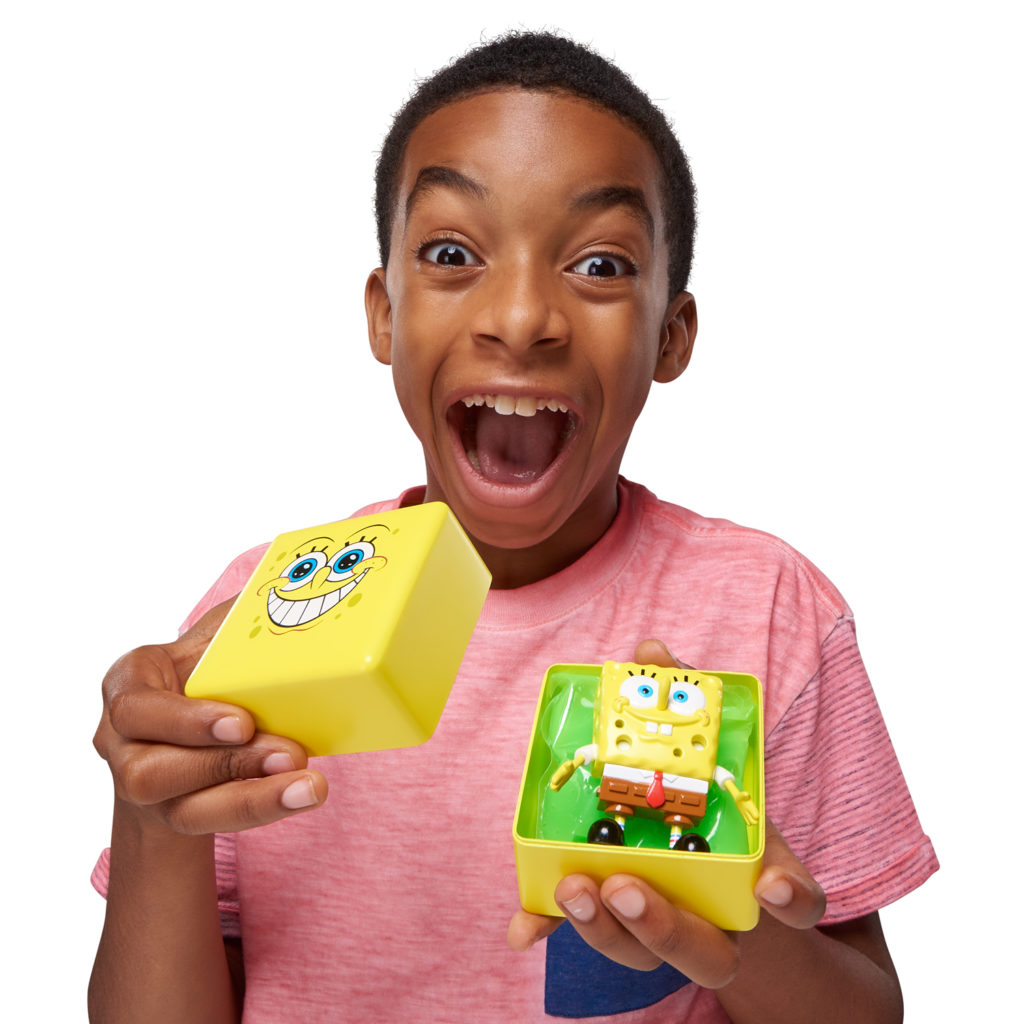 The Plankton's Slimetory playset comes with three colors of Nickelodeon Slime and an exclusive SpongeBob Slimeez figure. Mix the slime colors and fling it on SpongeBob using the catapult. Ages 6+, SRP: $19.99
TOYS WITH A TWIST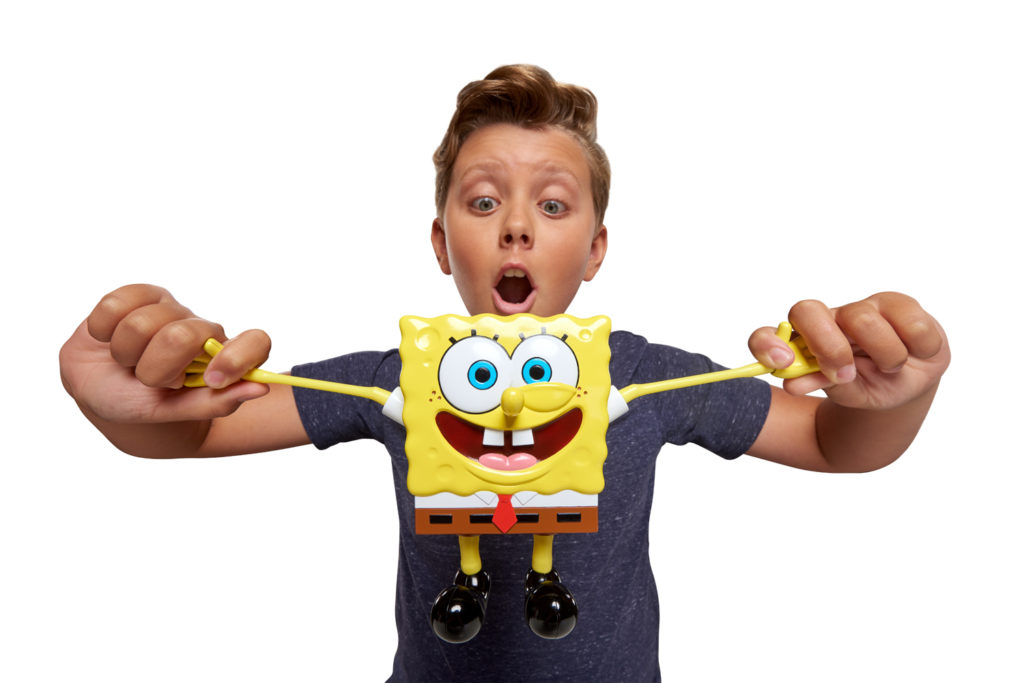 SpongeBob StretchPants, available this spring, is an interactive stretchy version of SpongeBob. Stretch his arms and legs to activate more than 20 unique sounds and phrases. Ages 4+, SRP: $24.99
The SpongeBob-styled Giggle Blaster features a real-working periscope, sprays aerosol party string (included), and shouts more than 15 SpongeBob phrases and sounds. It's out this fall. Ages 6+, SRP: $19.99
NOVELTY COLLECTIBLES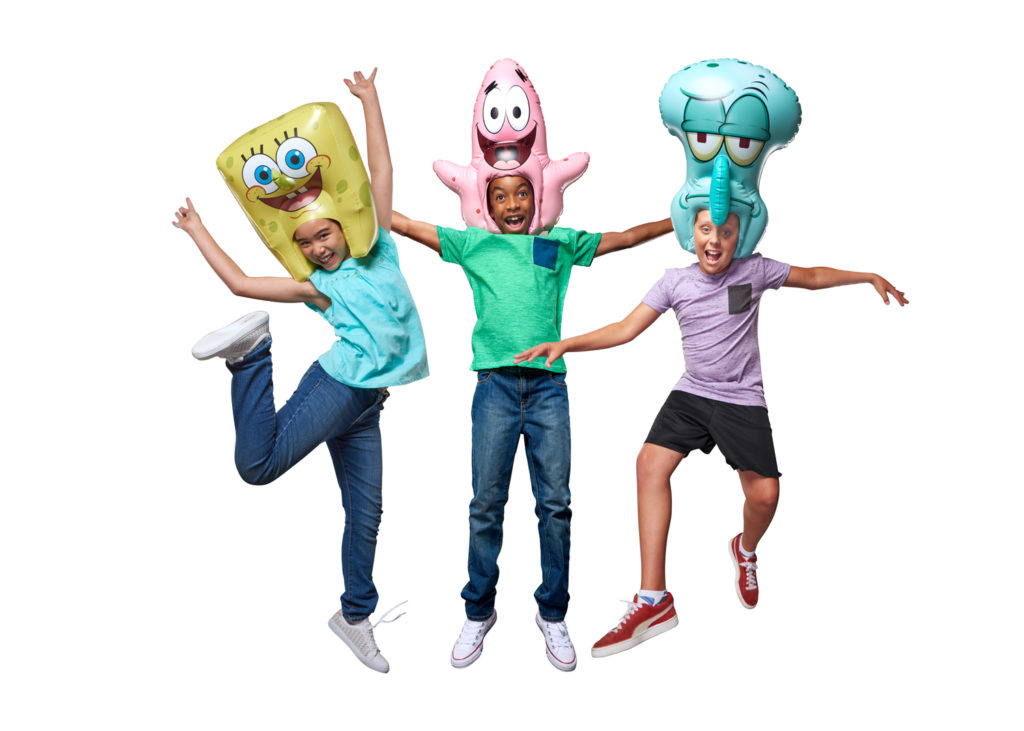 SpongeHeads let kids (and adults!) dress up as favorite SpongeBob SquarePants characters with the 20-inch soft, inflatable headwear. Available Spring 2019. Ages 6+, SRP: $12.99
ALL-NEW PLUSH CHARACTERS
SpongeBob Mini Plush features 6-inch plush SpongeBob characters. Six characters debut in spring. Ages 4+, SRP: $7.99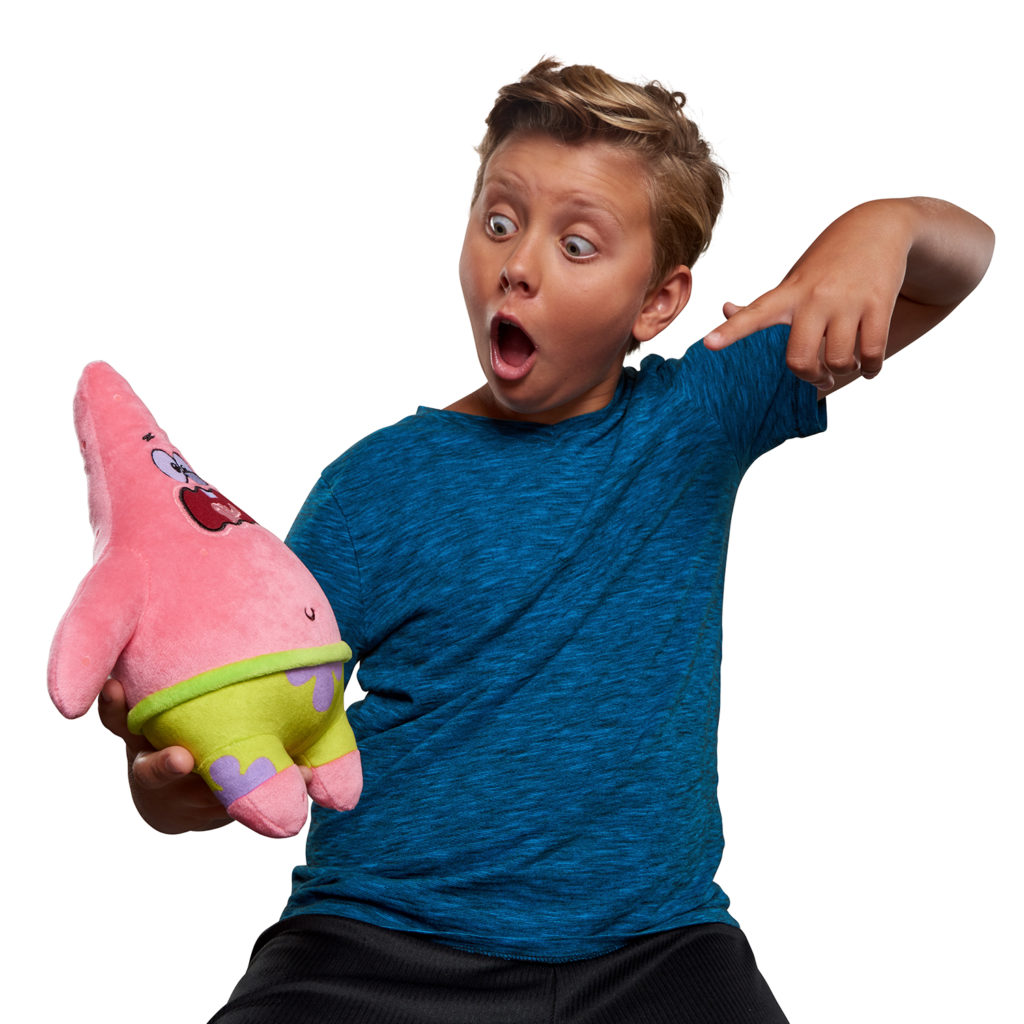 The SpongeBob 8-inch Exsqueeze Me Interactive Plush burp and fart. Fans will love to squeeze and laugh with these soft, plush pals. Coming in two waves, each featuring SpongeBob and Patrick: Spring 2019 and Fall 2019. Ages 4+, SRP: $14.99
Huggable Plush feature favorite SpongeBob characters in a huggable stuffed form. Arrive this fall includes Doe Eye SpongeBob, SpongeBob with Glasses, Patrick, and Plankton. Ages 4+, SRP: $19.99
SpongeBob LaughPants celebrates SpongeBob SquarePants' 20th anniversary with this soft, huggable joke-telling +17-inch plush. Featuring articulated arms and hips, and premium material including real pleather shoes and belt, SpongeBob LaughPants debuts in fall. Ages 6+, SRP: $39.99
This announcement comes on the heels of Nickelodeon's recently disclosed plans for SpongeBob's 20th anniversary Best Year Ever celebration.