Some might look at the crowded toy landscape as too challenging to dip their toes in. A company like Far Out Toys, however, only sees ample opportunity for disruption.
This way of thinking might seem a bit too risky, too far out for some, and that's exactly what's differentiating the company.
Keith Meggs, CEO and founder of Far Out Toys, attributes the successes of the company—started just over two years ago—thus far to its initial focus on partners.
A core element of Far Out's business model is based on working extensively with the inventor community, which has also played into the company's rapid growth across multiple toy categories. At Toy Fair New York, it held more than 35 inventor meetings.
Games is one area that is made up entirely of inventor items. This fall, the company will roll out a new stable of action-packed games that focus on the preschool market. As the games aisles has moved toward what Meggs calls "toys with rules," here is where Far Out Toys believes it can deliver the most innovation. Its Crazy Critters line has players launch rubber chickens in a pint-sized ladder golf-style game and springing spiders on webs to earn high scores.
"Because there's such a wide array of inventor resources that we work with, we get to field a very broad range of candidates in all different categories," says Meggs. "From day one we wanted to be as broad as possible, trying to create as much opportunity as possible, particularly when you think about it from the standpoint of the retailer. If we developed a lot of games, and that particular buyer didn't like our games today, then we wouldn't have any opportunity to have any more discussion with that retailer."
One internally developed product that came about through a focus on growing retail segments is Crash Racers. The toy vehicles combine real motorized, high-speed, side-by-side racing with cars that break apart on impact. 
The company followed up with a multi-year agreement with NASCAR for the line, announced earlier this year, which further leverages Far Out Toys' deep in-house expertise in the segment (many on its team are Hot Wheels brand alumni). The first line of NASCAR-branded products will roll out at mass retailers nationwide this fall with a larger push in 2020. "These new licensed toys will allow kids to be NASCAR drivers and experience the thrilling action of the sport," says Paul Sparrow, managing director of licensing and consumer products for NASCAR, in a statement.
Far Out Toys' Sarah Baskin, senior vice-president of marketing communications, is spearheading the NASCAR initiatives.
"It's kind of a dream come true from a marketer's viewpoint, to have an institution where something like 36 weekends out of the year, you have tens of thousands of people congregating at these races, all weekend long," says Baskin. "As much as we believe in social-first marketing and embracing that kids are consuming more media online than ever before, they're still out there, experiencing events and getting hands-on with these products with their families. NASCAR understands that this is an opportunity to bring families together and have really memorable life experiences. We look forward to matching our capabilities and traditional and digital marketing with their expertise in bringing on live experiences."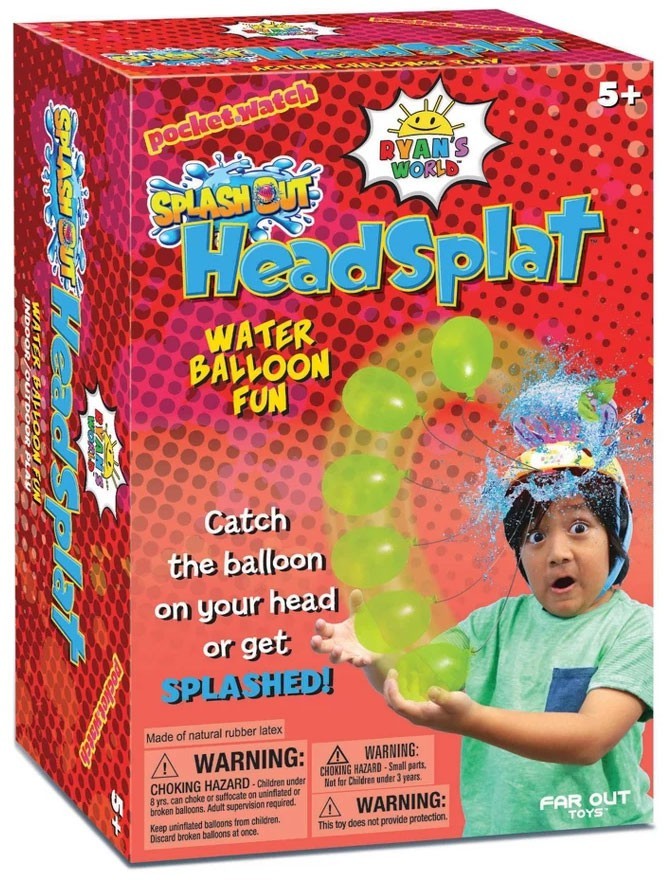 The company has also looked to the influencer space for other partnerships, teaming with YouTube superstar Ryan ToysReview. Ryan's World-branded versions of the skill-and-action games Head Splat and Splash Out launched this spring at retail.
"With Ryan's World, it's helped us to leverage placement in the major retailers with those items," says Baskin. "The toys are great on their own, but the ability to bundle them together and make a larger retail statement is very powerful. These YouTube content creators are hugely influential in getting kids to want product. Now it's evolved to a much deeper model, where these influencers are actually fully endorsing products, and embodying the brands of some of these products. You'll continue to see more of that, and Far Out Toys will be eager participants in that movement."
While Far Out Toys would not comment yet as to whom else they planned to partner with, Meggs was quick to emphasize that all these partnerships are being looked at strategically.
"We're looking to develop long-term partnerships in the industry, with licensors, but also with the retailers," he says. "Our focus is not to try to just get item placement, while tempting many times. We're interested in strategic partnerships with the retailers, and we're working to do just that."